david & kathryn | atlanta botanical garden surprise proposal
session type: surprise atlanta botanical garden proposal
location: atlanta botanical garden, atlanta ga
photographer: danielle brown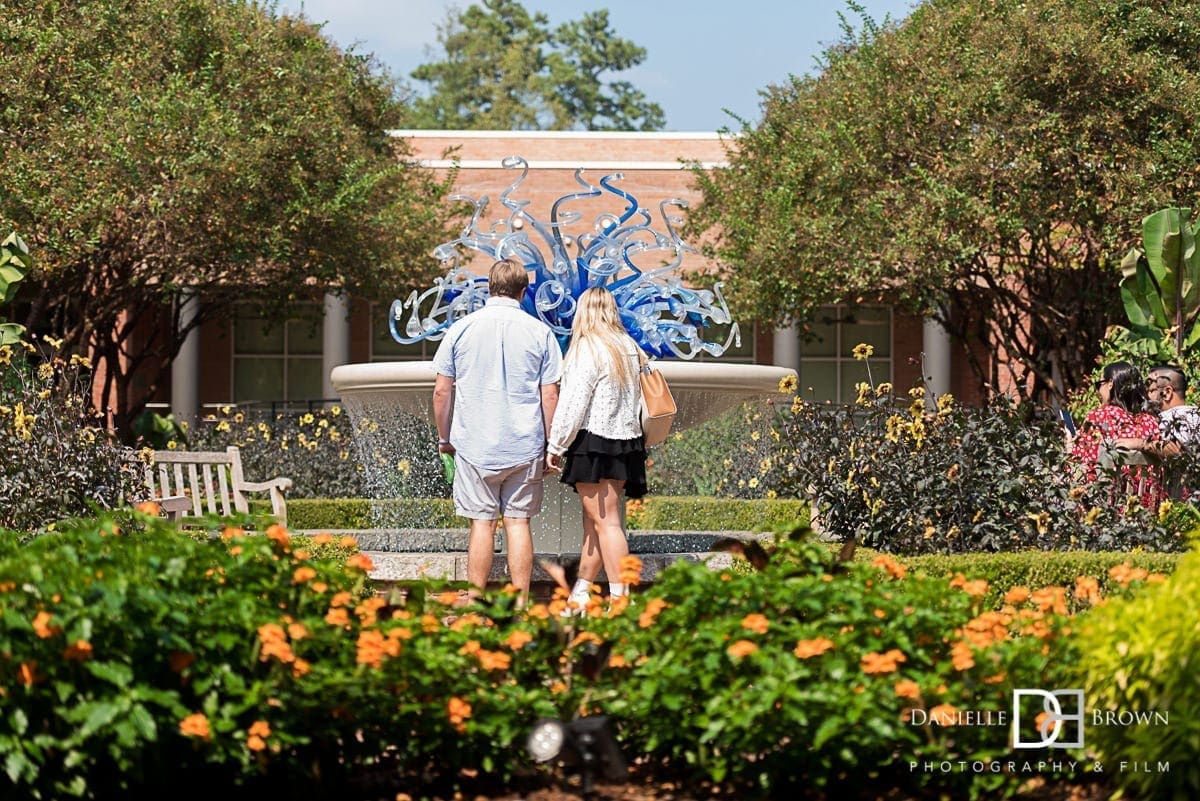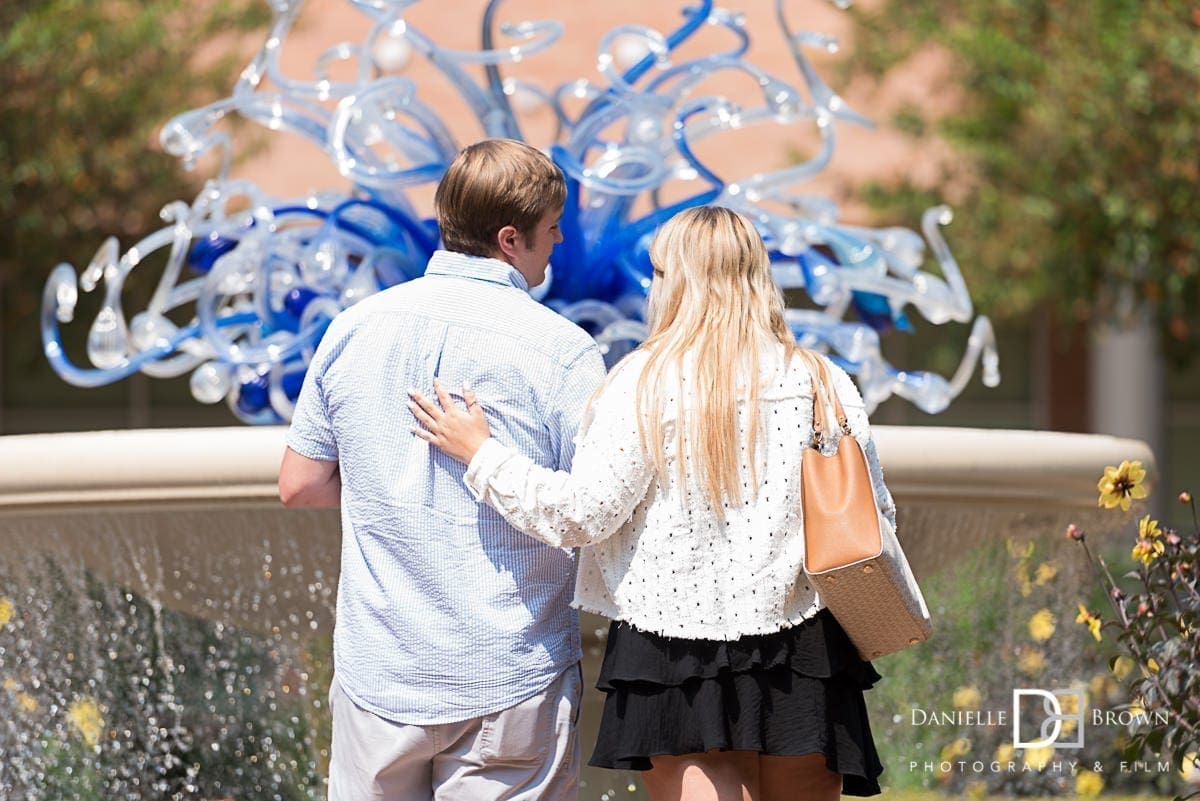 So an Atlanta Botanical Gardens surprise proposal is no joke. As a rule, Danielle Brown Photography is in place between 10-20 minutes prior to the scheduled time of the surprise proposal. And then we wait. And wait. Typically, I ask my would-be, could-be grooms to send me a picture so I know it's them.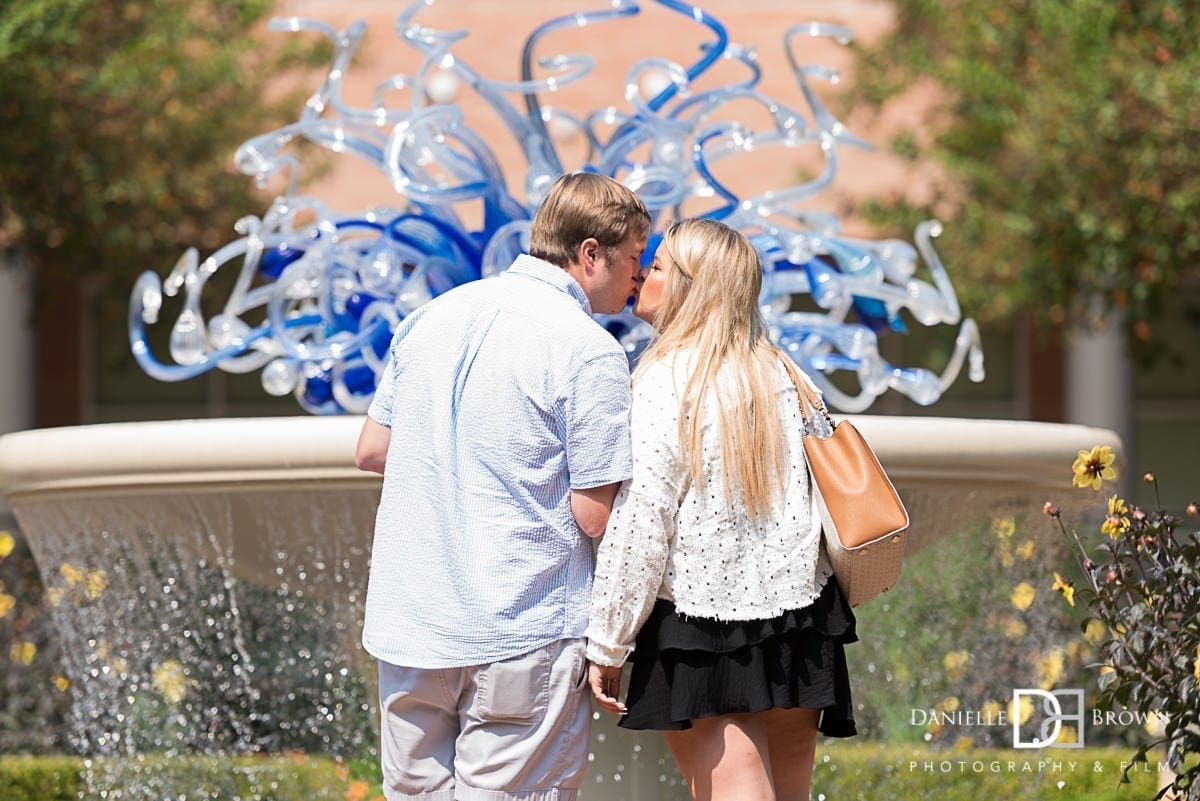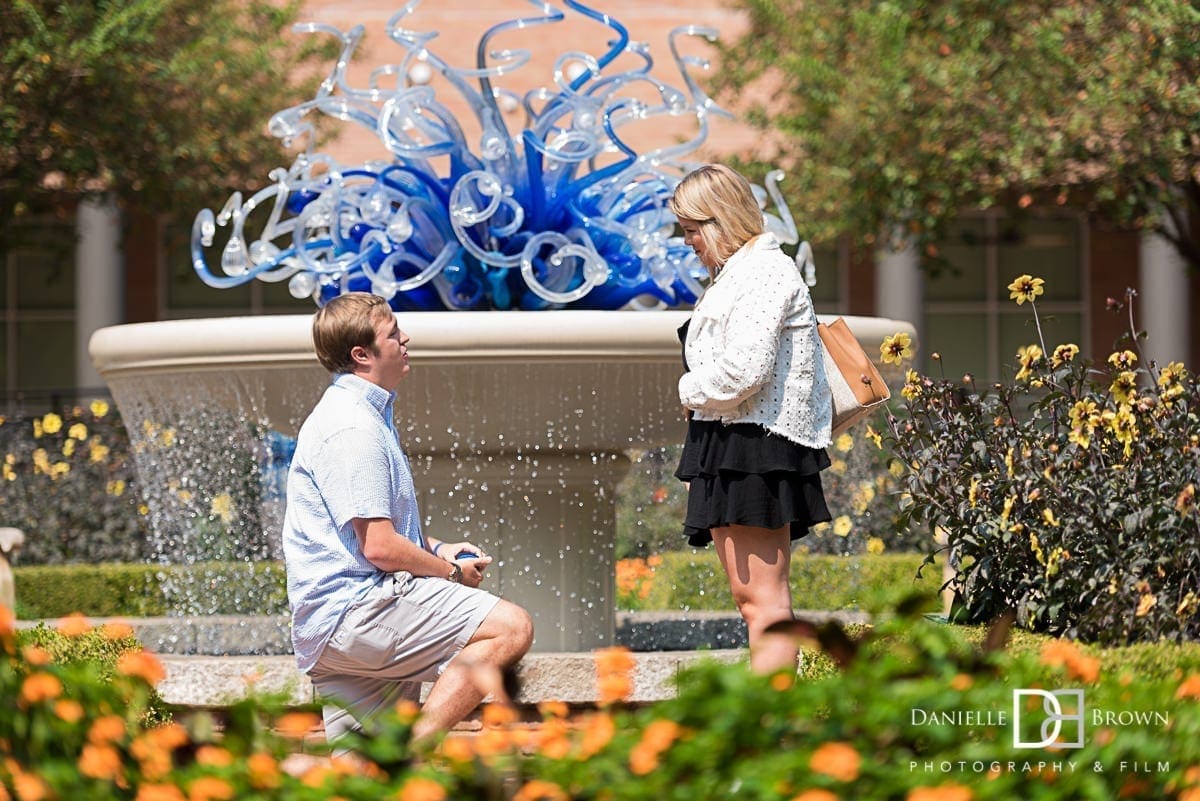 When you're going to make a surprise proposal happen at Atlanta Botanical Gardens, most of my grooms ask for location advice. You can see my favorite map of Atlanta Botanical Gardens here.
I personally believe that the best spot in Atlanta Botanical Gardens to have a surprise proposal is Levy Parterre. The amazing thing about the Levy Parterre is the fountain with stunning blue, blown-glass sculpture by Dale Chihuly. I'll be honest, I'm a superfan of Dale Chihuly.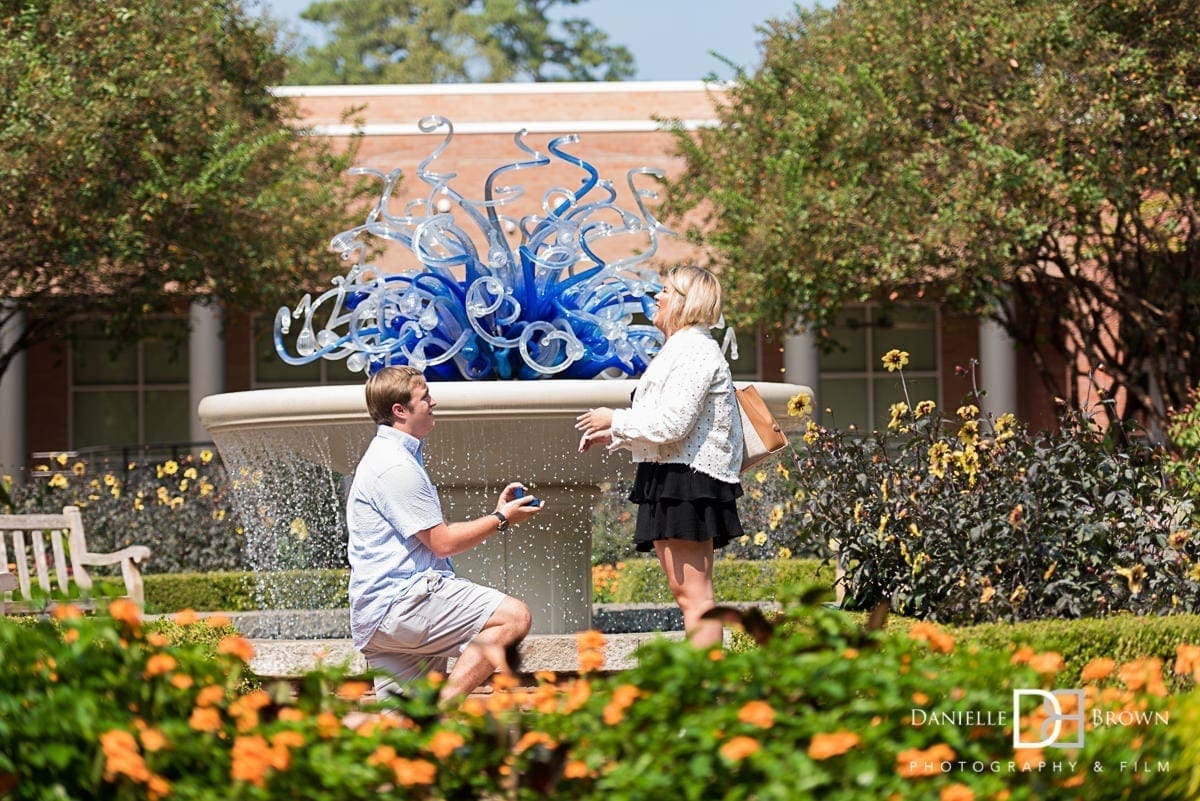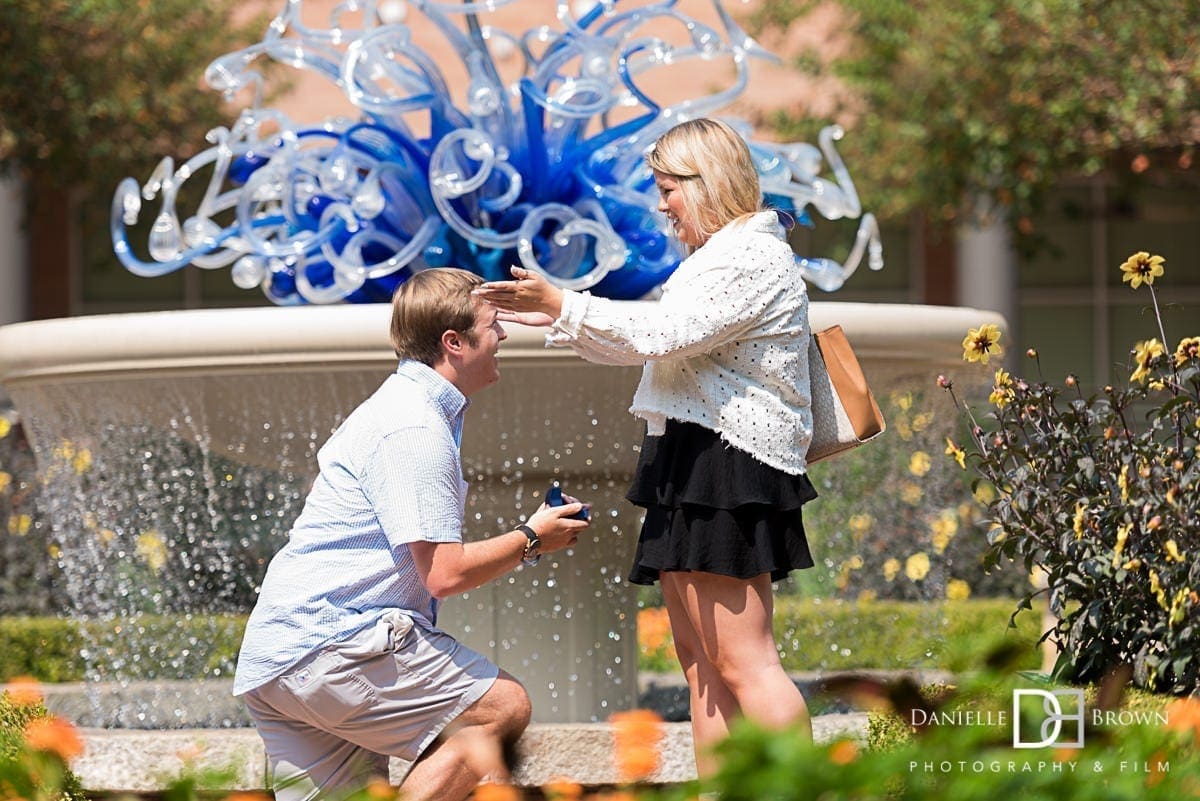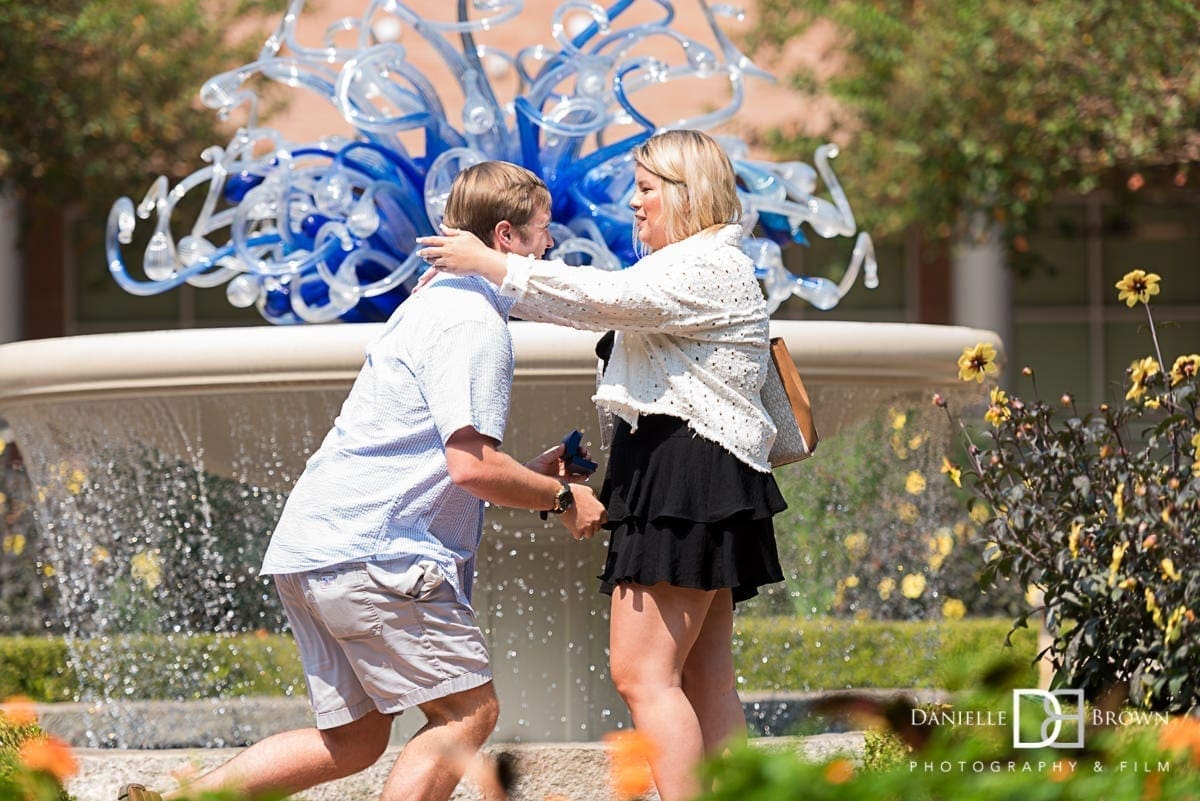 To date, Danielle Brown Photography has photographed 12+ surprise engagements. Now, we don't want to say, everyone's said yes, because Danielle Brown Photography was photographing the surprise proposal, but we've never had anything but "YES!"
Of course, David was the perfect groom and placed the engagement ring on Kathryn's finger to complete the proposal.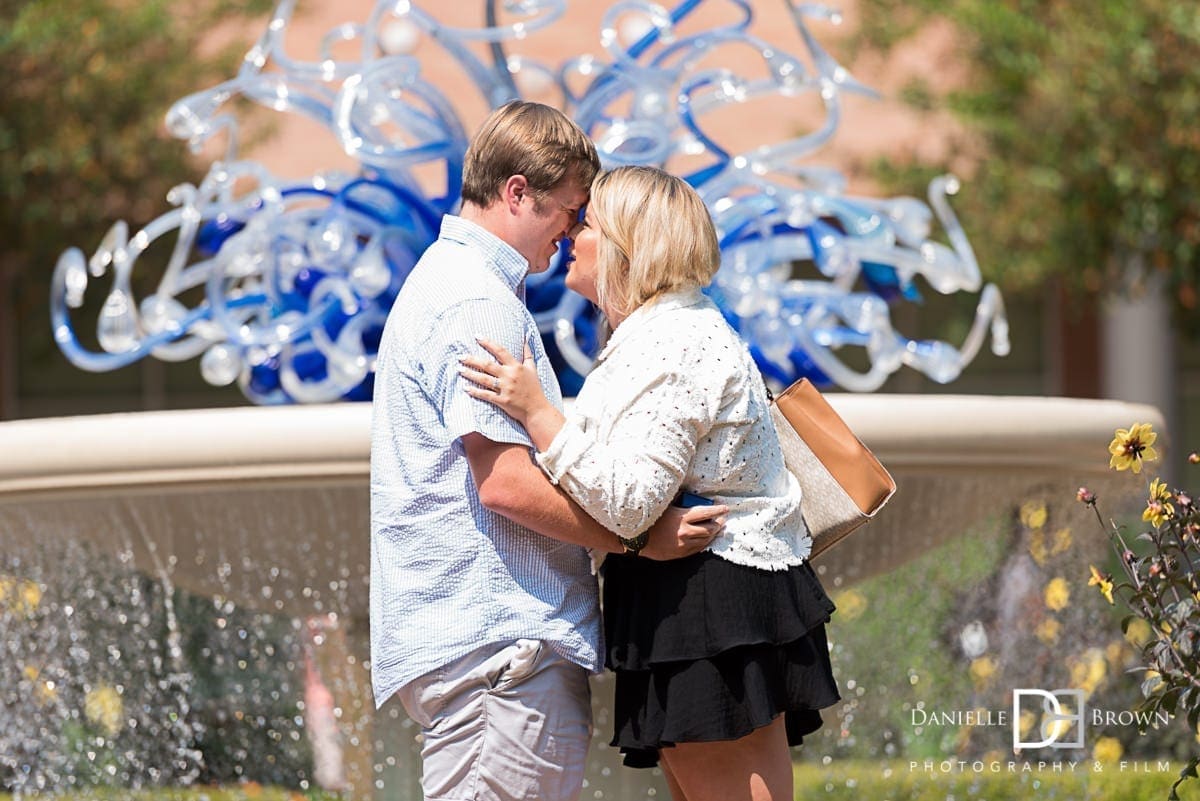 When David and I were working out details, he also asked if we could do some pictures in the park. Absolutely!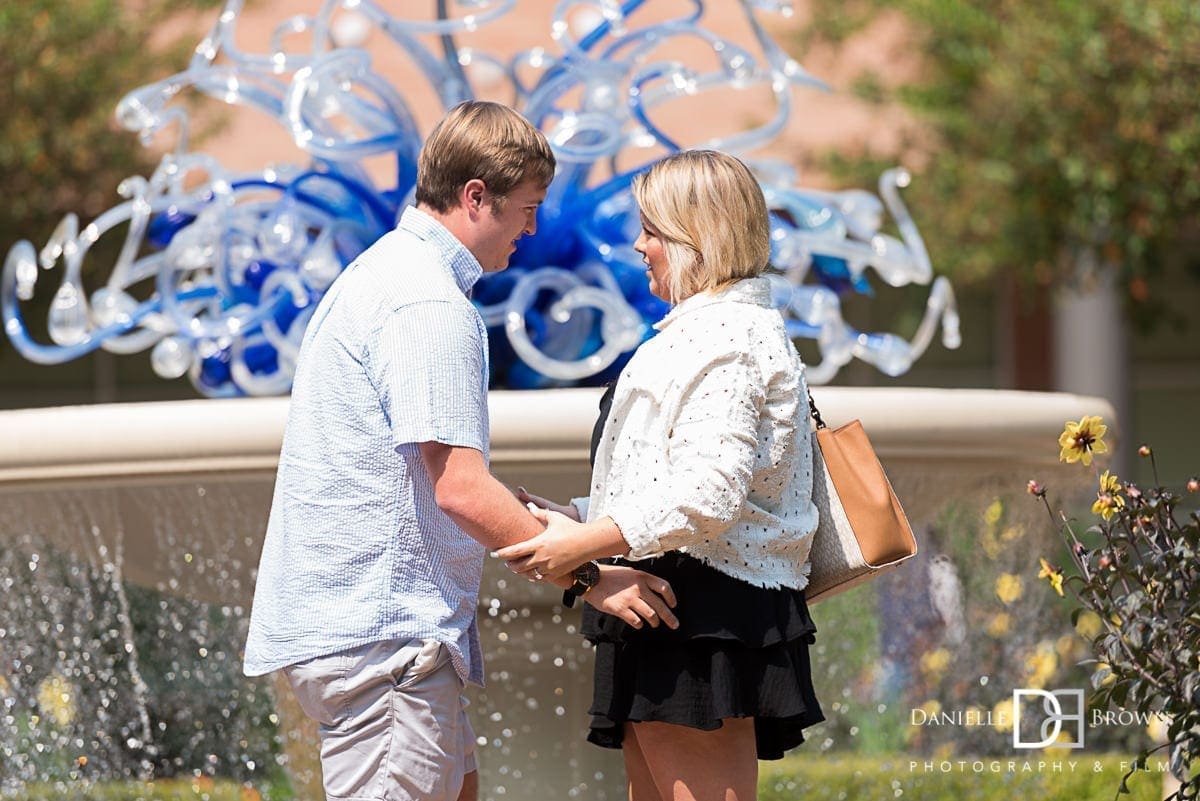 Once David and Kathryn had a few moments to enjoy the moment, we did a mini-engagement portrait session.
Mini-Engagement Session at Atlanta Botanical Gardens
Starting on the Kendeda Canopy Walk, we did some brief portraits with a beautiful background for Kathryn to show of her new bling!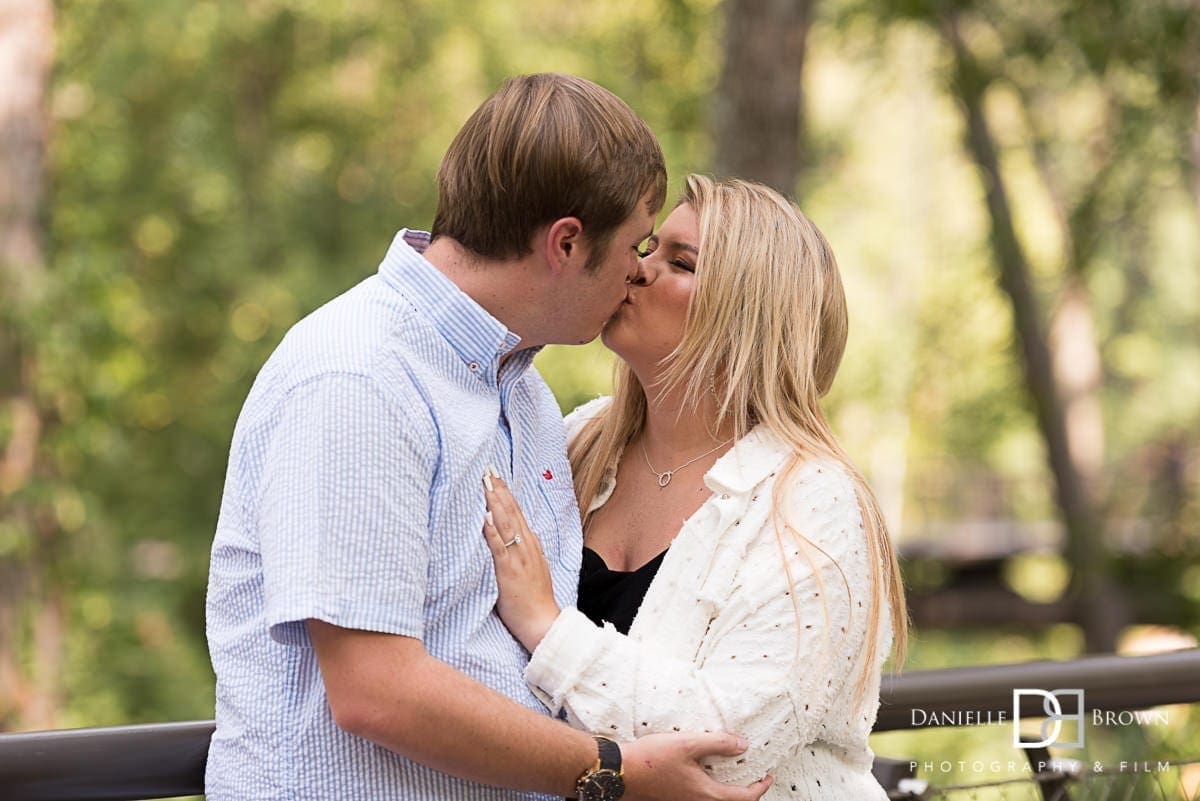 When David contacted me about setting up his surprise Atlanta Botanical Garden proposal, he was thinking about Kathryn. He shared that her favorite Disney movie was Alice in Wonderland. With Atlanta Botanical Garden featuring stunning Alice in Wonderland themed topiaries, we knew this was the perfect location for him to propose.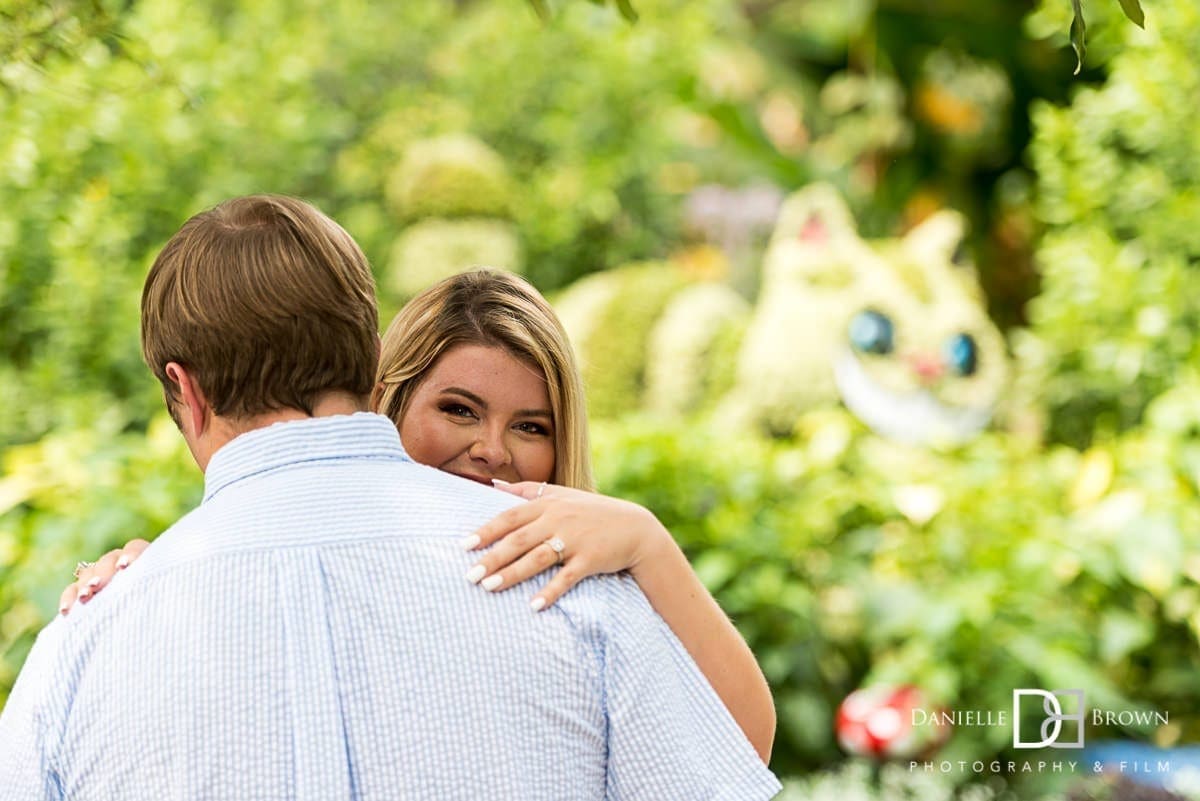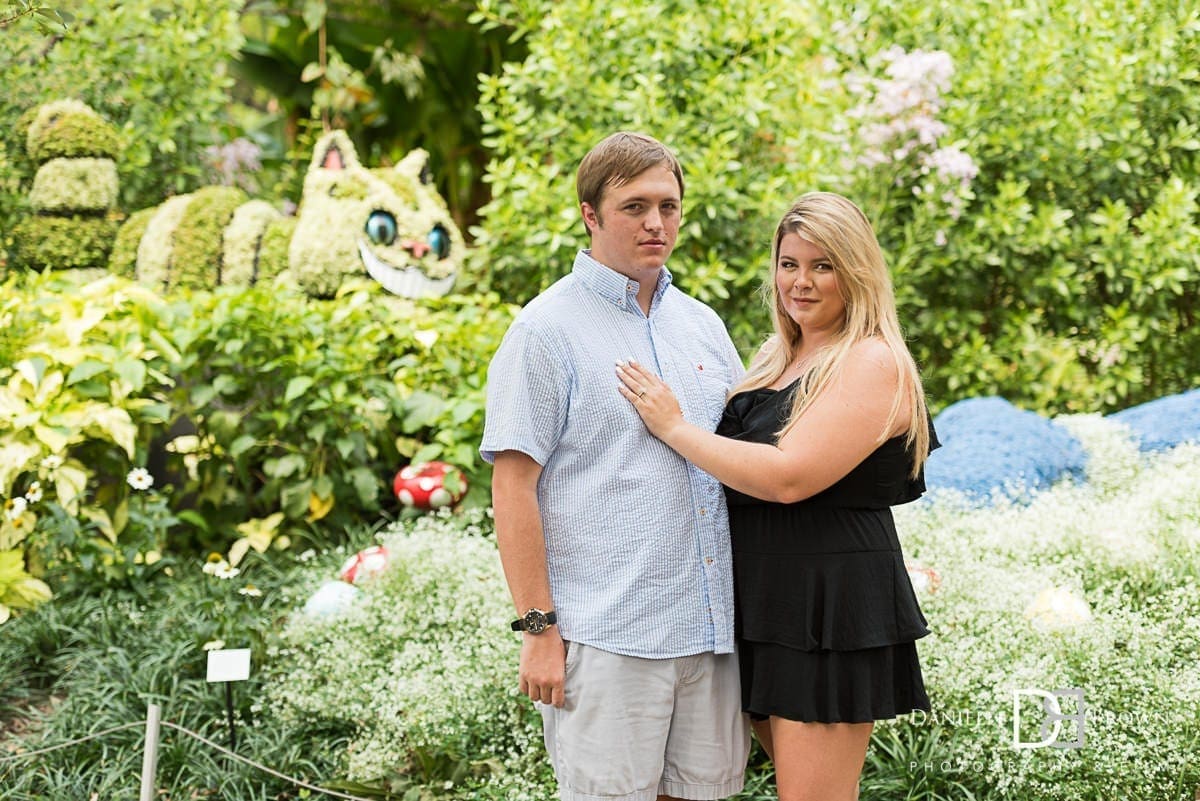 I'm not sure who was smiling bigger! Kathryn or the Cheshire cat.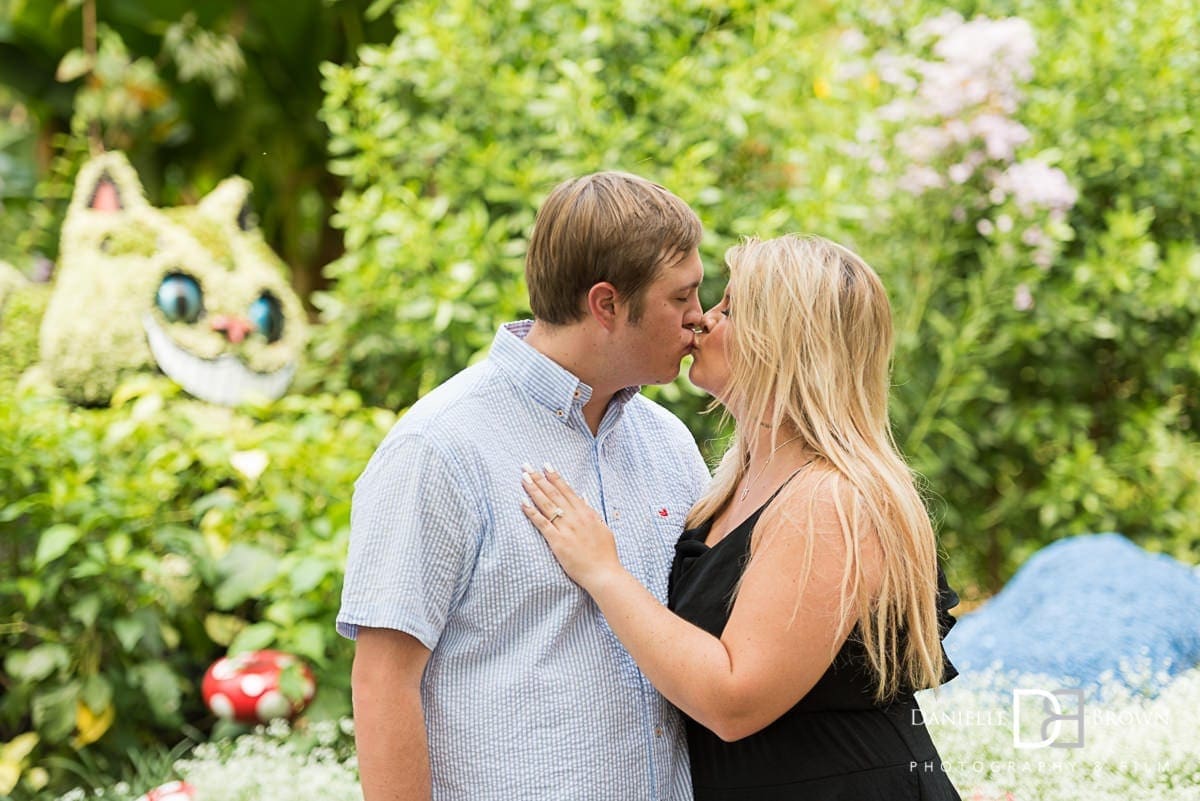 We wrapped the session as I always do. With killer shots of the actual engagement ring. If you scroll through our Atlanta wedding photography, Atlanta engagement photos, or surprise proposal blogs you'll see quite a few of these shots.