Andre & Sierra | Atlanta Botanical Garden Proposal Photography
session type: Botanical Garden Proposal Photography
location: Atlanta Botanical Garden, Atlanta GA
photographer: Danielle Brown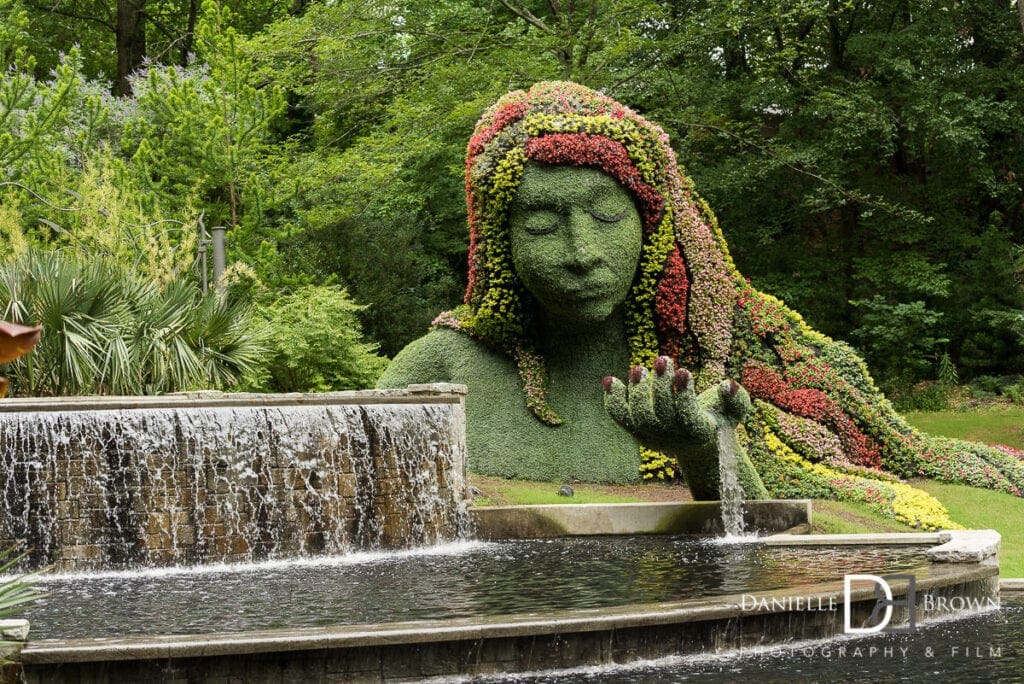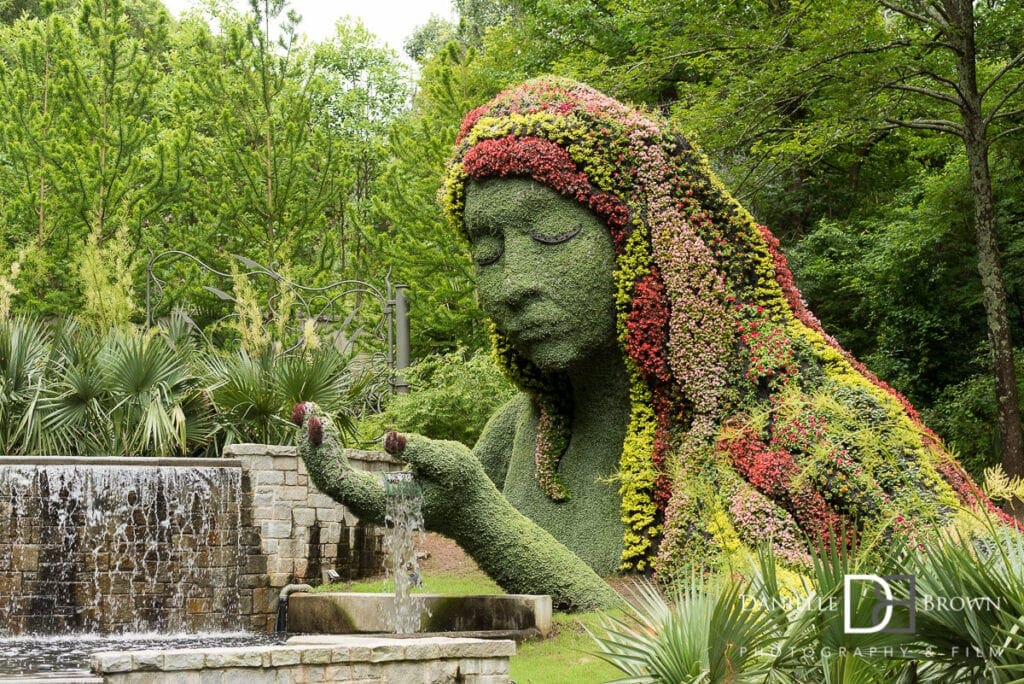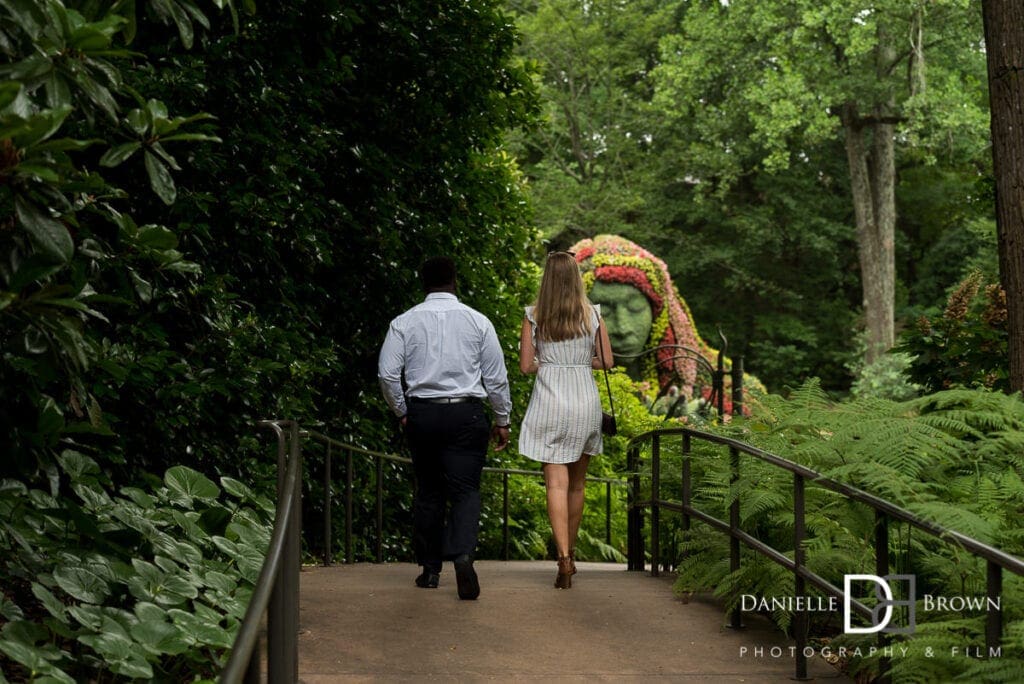 Setting up a Botanical Garden Proposal Photography is an art and a science. Because Atlanta Botanical Gardens has so many nooks and crannies, each space, perfect for your proposal, it's so important that we communicate and plan with our proposer. Once we get the initial call, text or email from our proposer, we work really hard to make sure we are on the same page.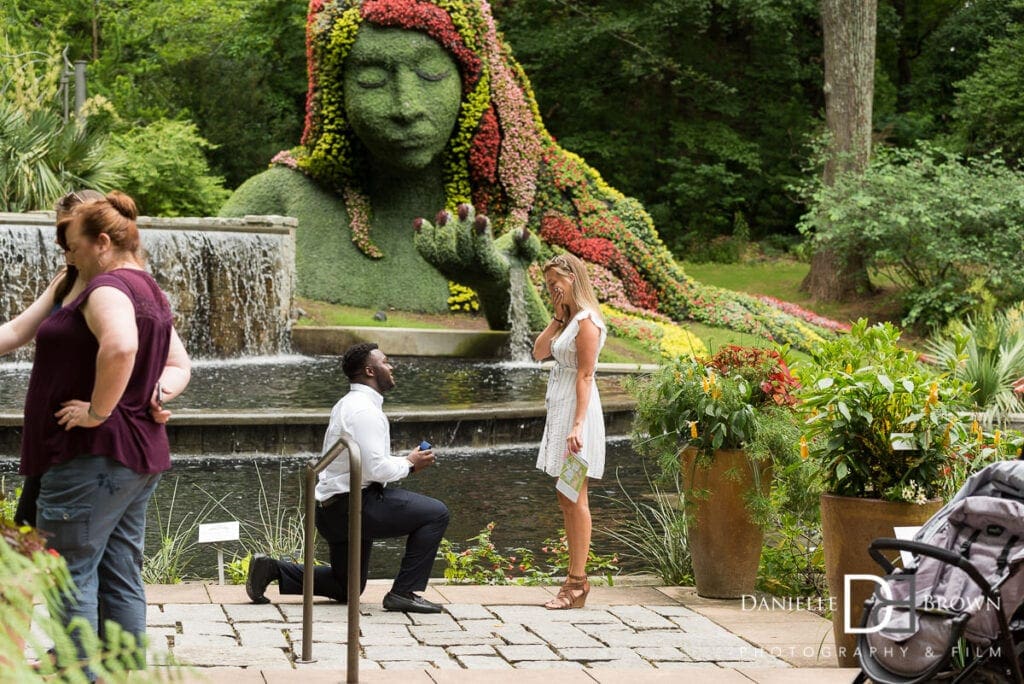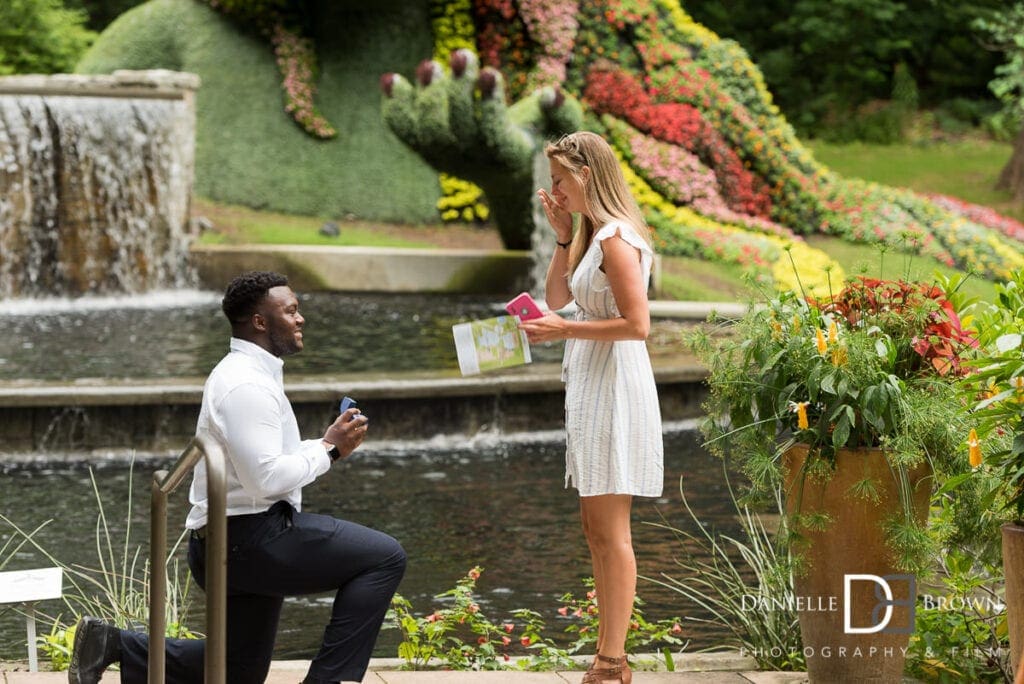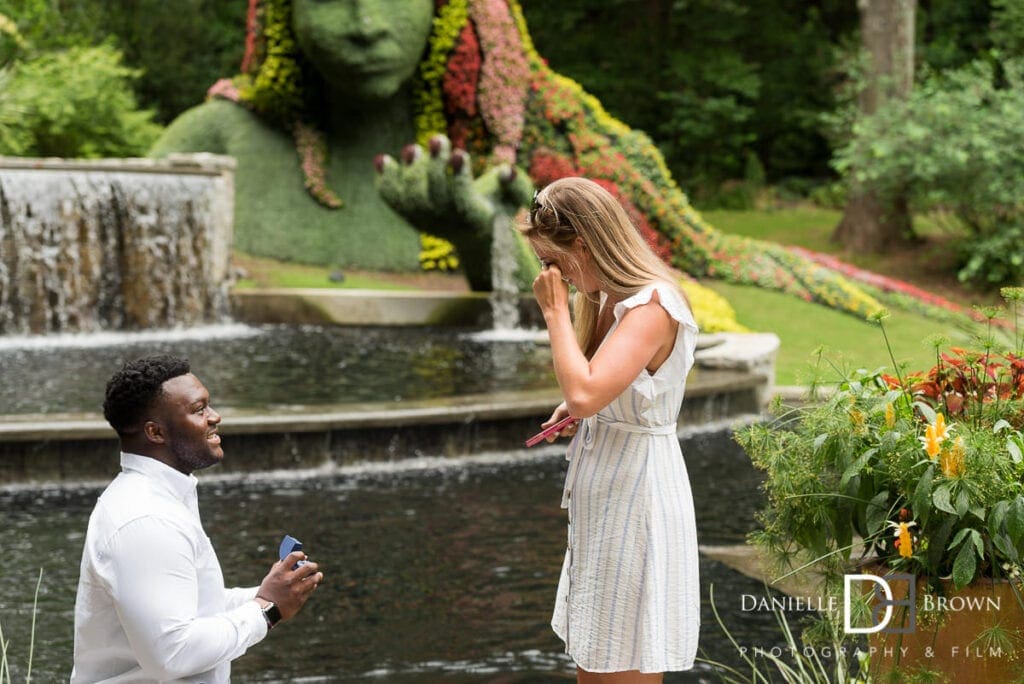 Andre's proposal to Sierra was no different. With years of experience photographing surprise proposals, we learned sending the proposer a marked up map is great. It is the easiest and highly effective way of getting photographer and proposer on the same page. I love photographing proposals in the Cascades Garden area. With the Earth Goddess in the background, it is a very popular spot for Botanical Garden proposal photography.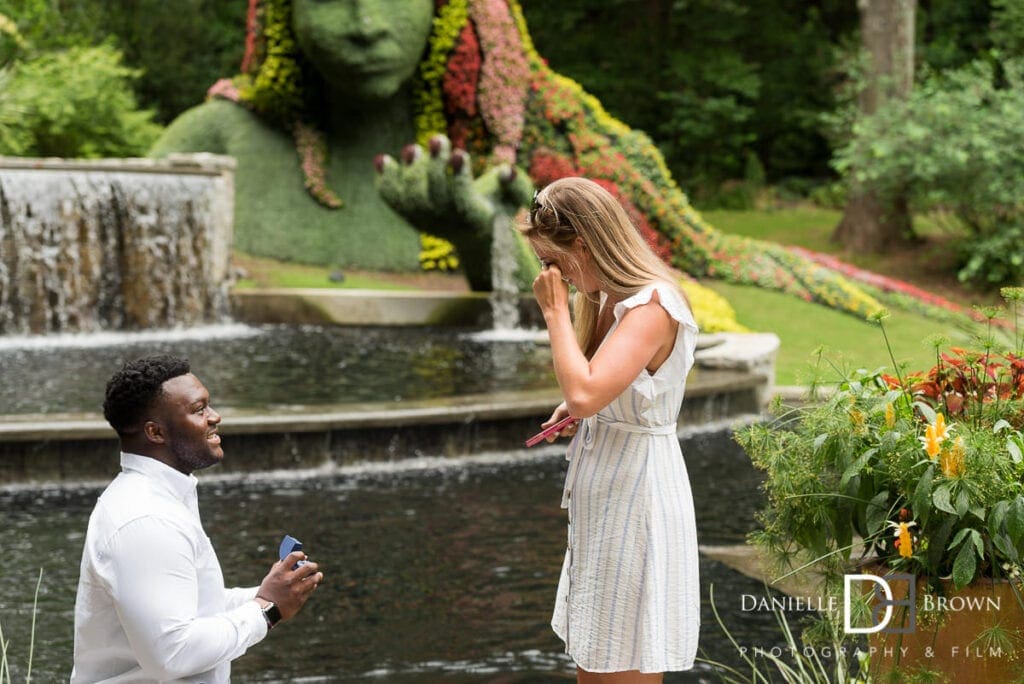 We coach our proposers to walk up to Cascades Garden on a specific path. That way, we can follow our couple in to the area. So life always keeps things interesting. During Andre's Atlanta Botanical Garden proposal photography, we had a well meaning bystander who wanted to help. A little family who was checking out the Earth Goddess, kindly pulled out his iPhone to help Andre. What he did not know, is that I was already there to get these shots.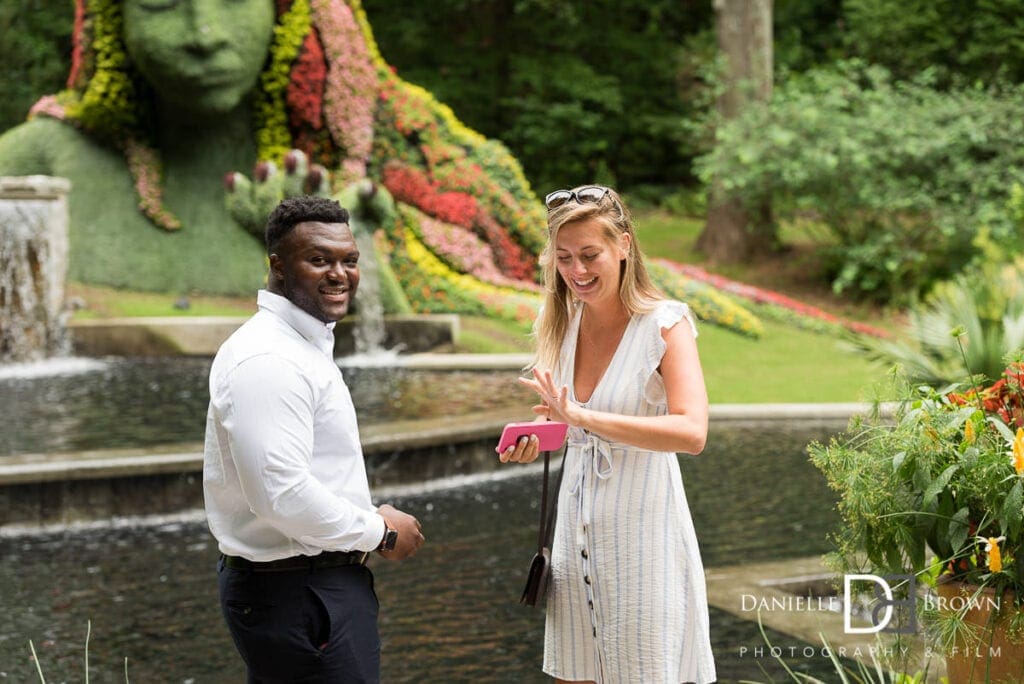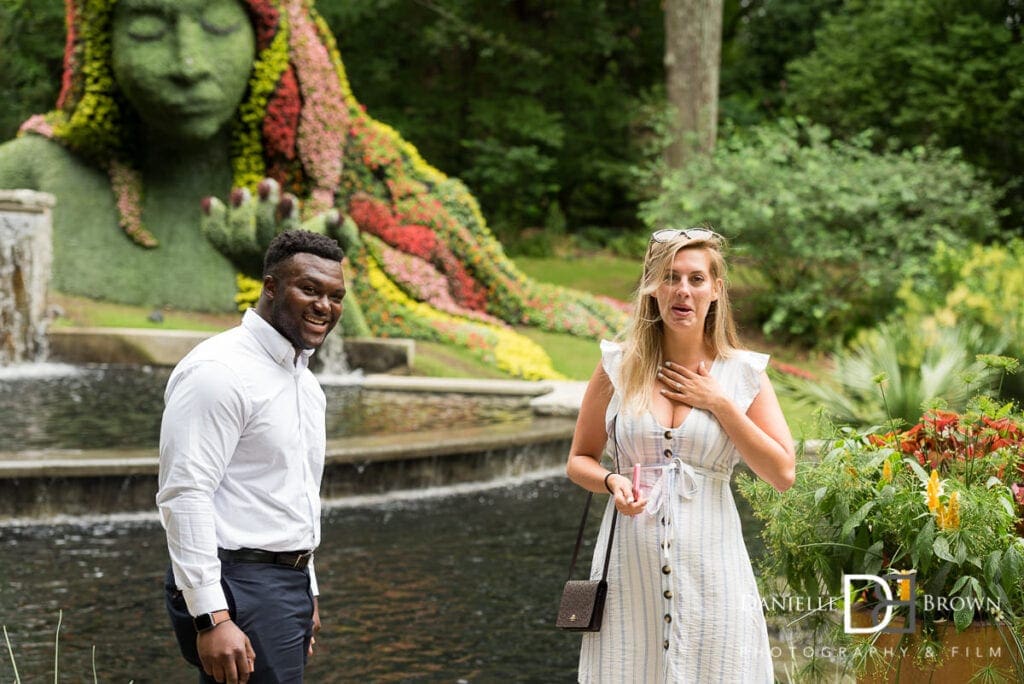 I love when our "proposee" realizes that I'm there to document the moment.
Botanical Garden Proposal Photography – After the Proposal
Because the actual Botanical Garden proposal photography moment only takes a few minutes, we finish the hour with our couple throughout the botanical garden.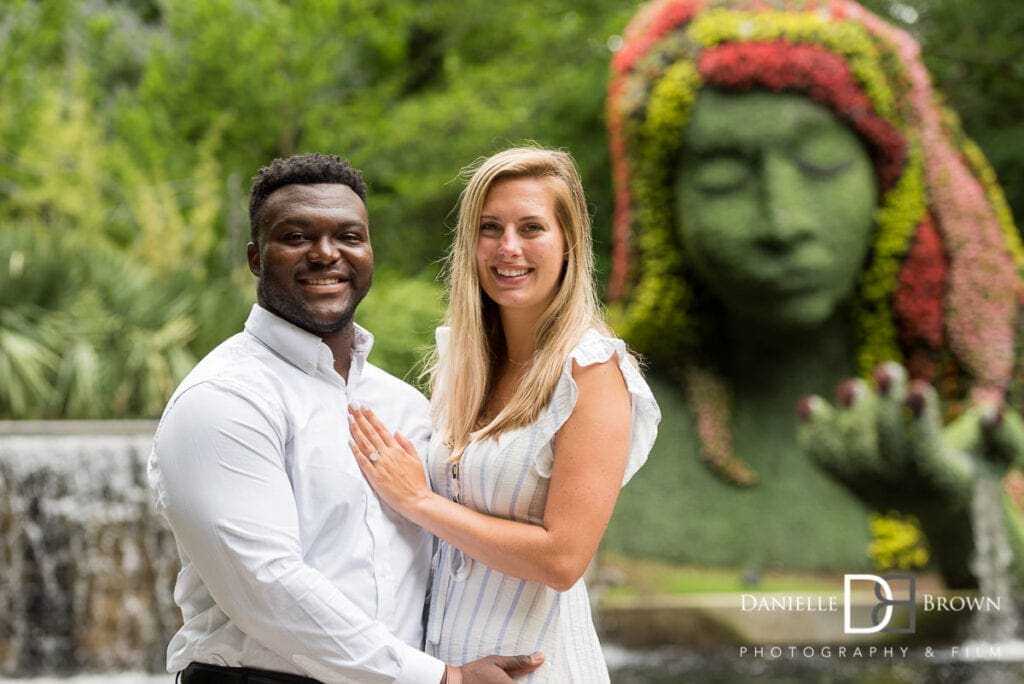 When we are on the northeast side of Atlanta Botanical Garden, we love using the Kendeda Canopy walk for pictures. Fourty feet in the air, the Canopy Walk, is one of the largest tree canopy-level suspended walkway in the United States. Kendeda Canopy walk has a beautiful, lush green background for portraits.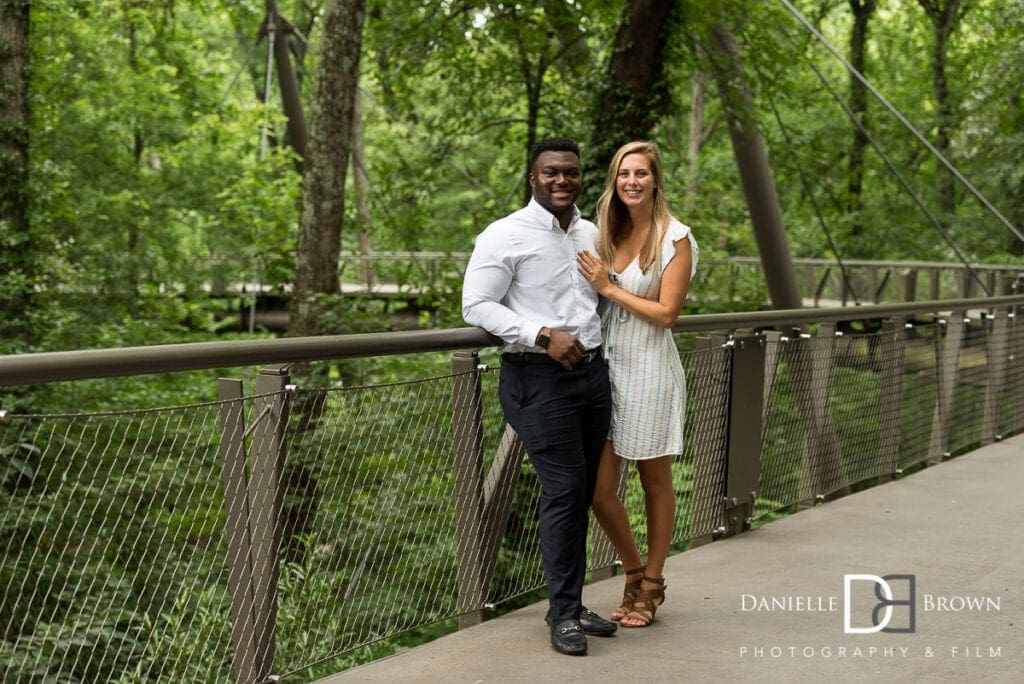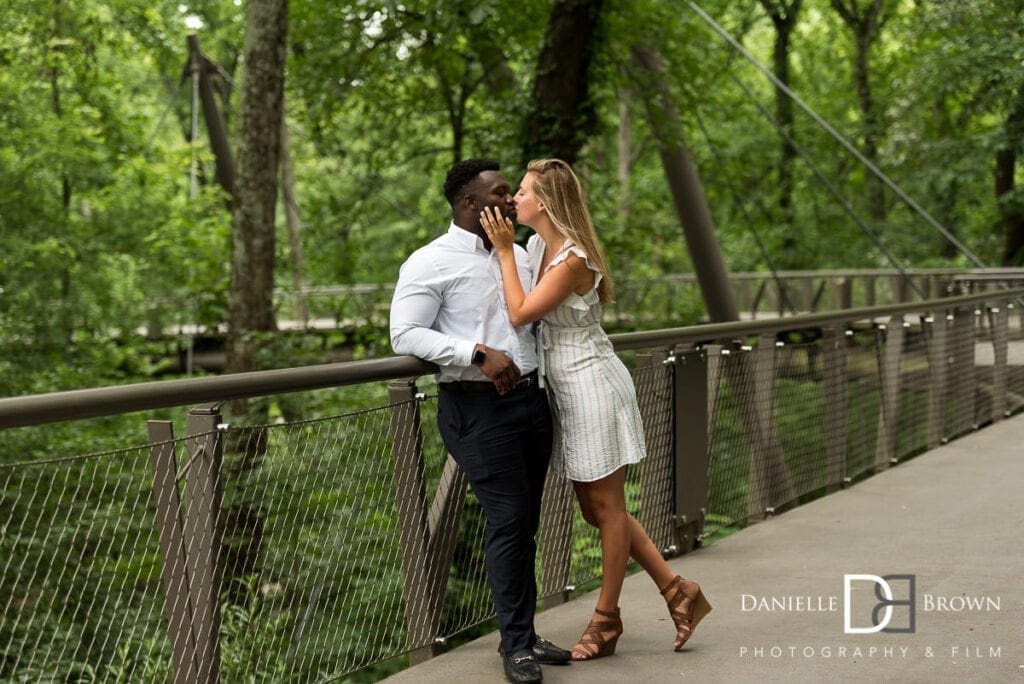 Levy Parterre & Japanese Garden Portrait Photography
After the canopy walk, we often make our way to the Levy Parterre fountain. We love the Levy Parterre's background. This is one of the more popular backdrops for surprise proposals when we are in Atlanta Botanical Gardens. The stunning beauty of the Garden's most formal space is inspired by classic gardens popular in 17th-century France. The fountain's blue glass twists and turns are the artistry of Dale Chihuly.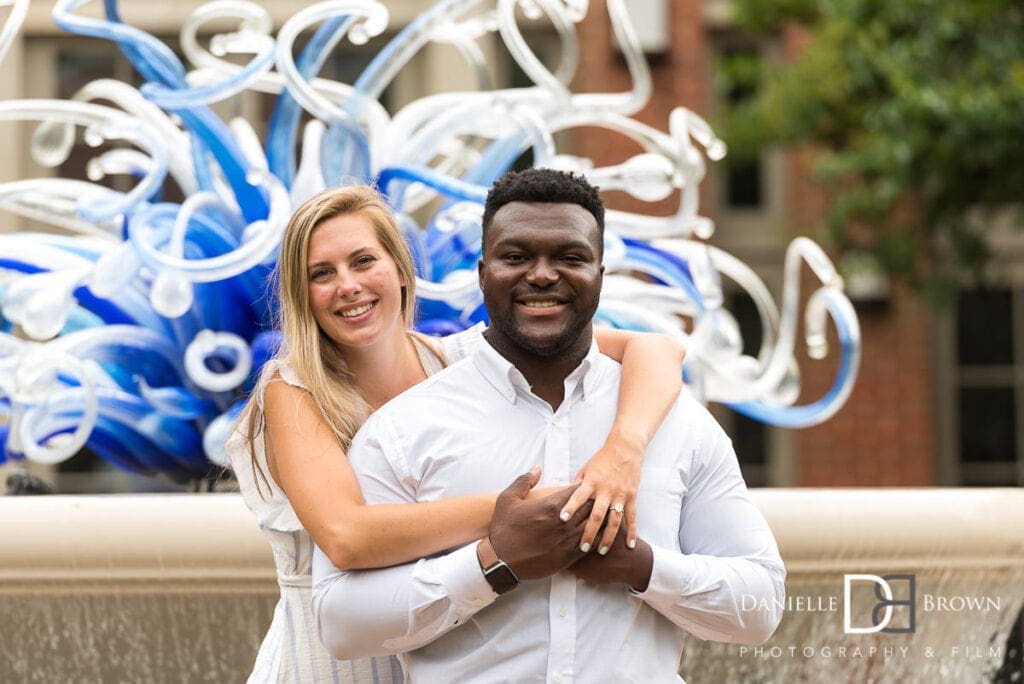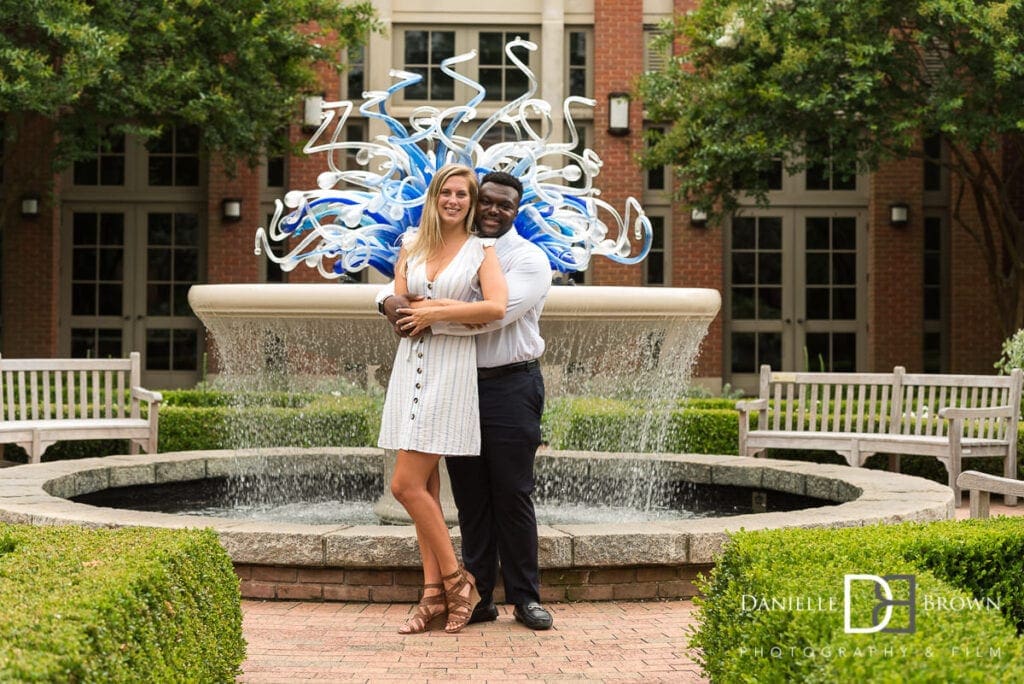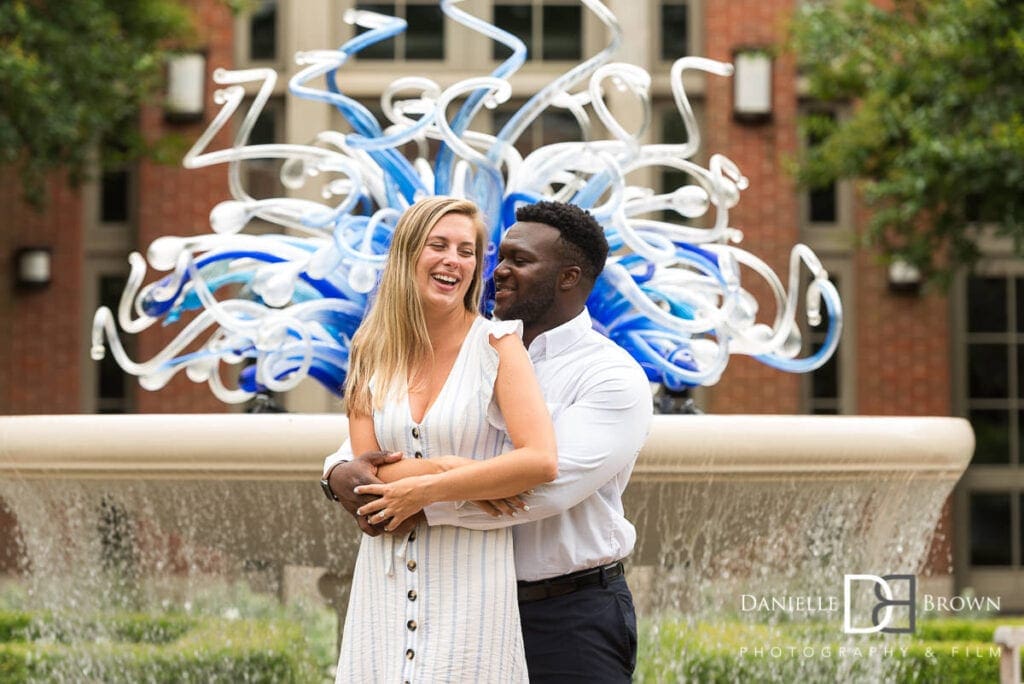 Across from the Levy Parterre, is Atlanta Botanical Garden's iconic Japanese Garden. A feature since the 1960s, no garden room has a richer history than the charming Japanese Garden. Japanese garden styles impress with authentic elements that include a Moon Gate and antique lantern that mark its entrances.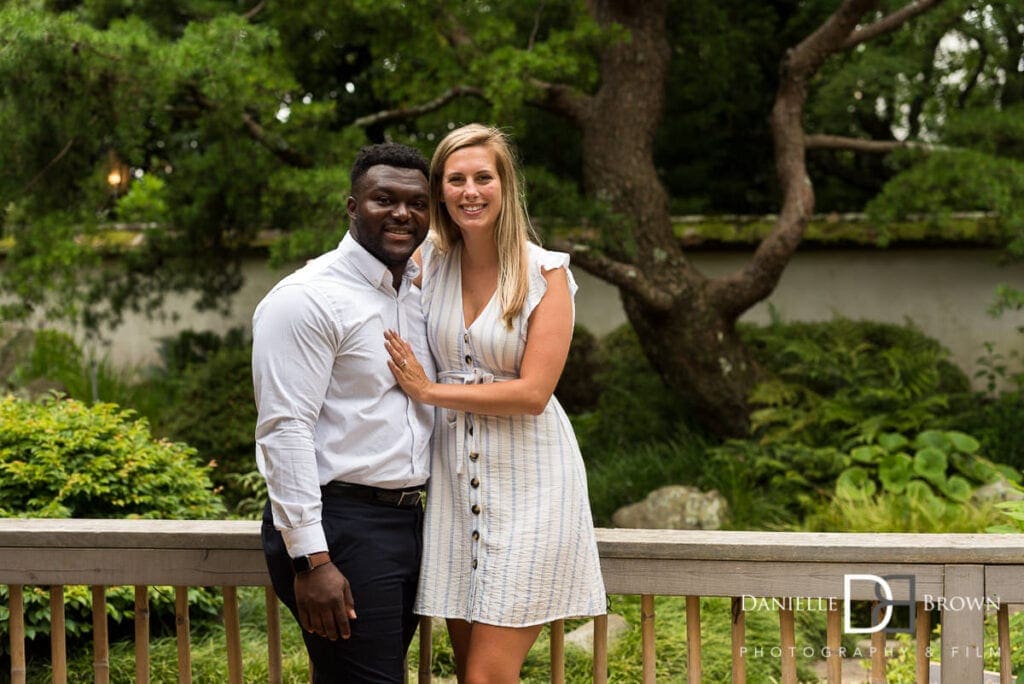 The Vine Arbor
One of my favorite "poses" for my couples is our "walk shot". We combine easy interaction with our couples walking away from us and back.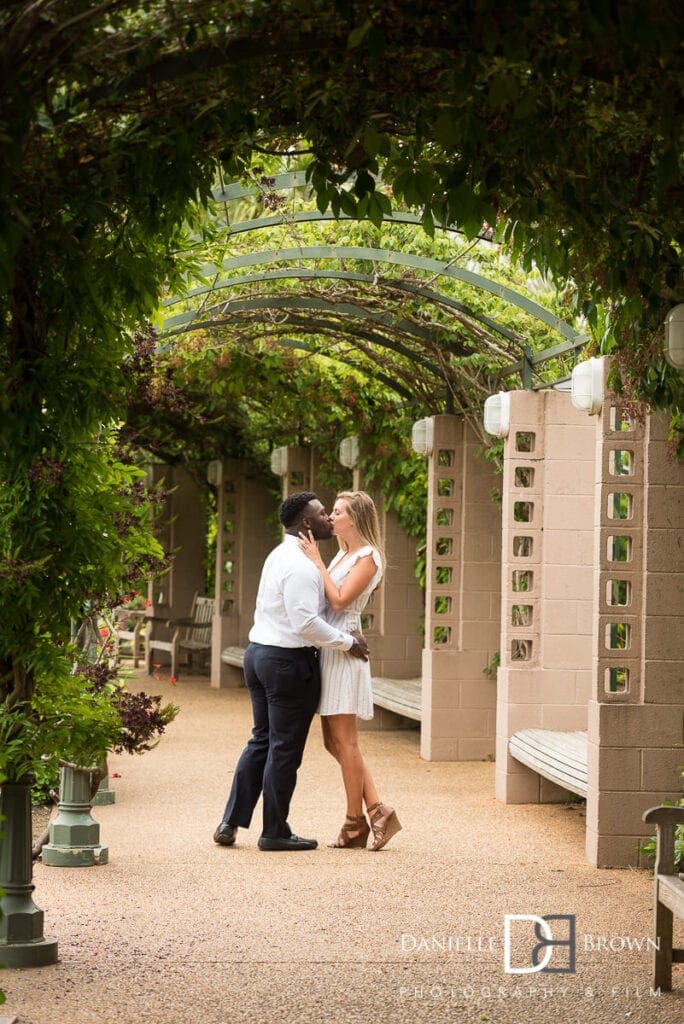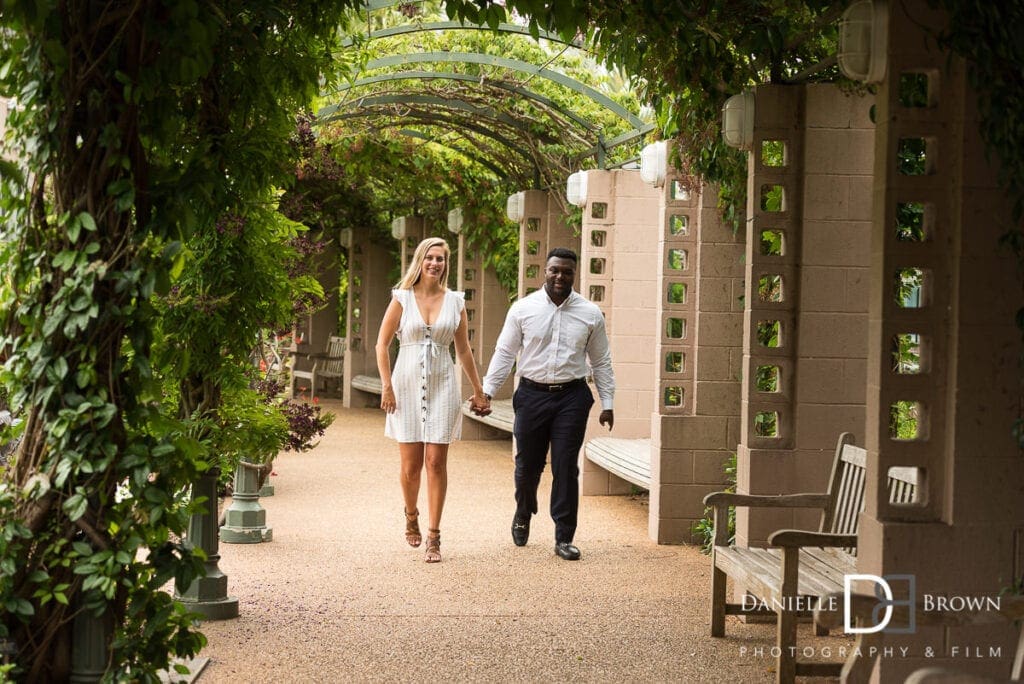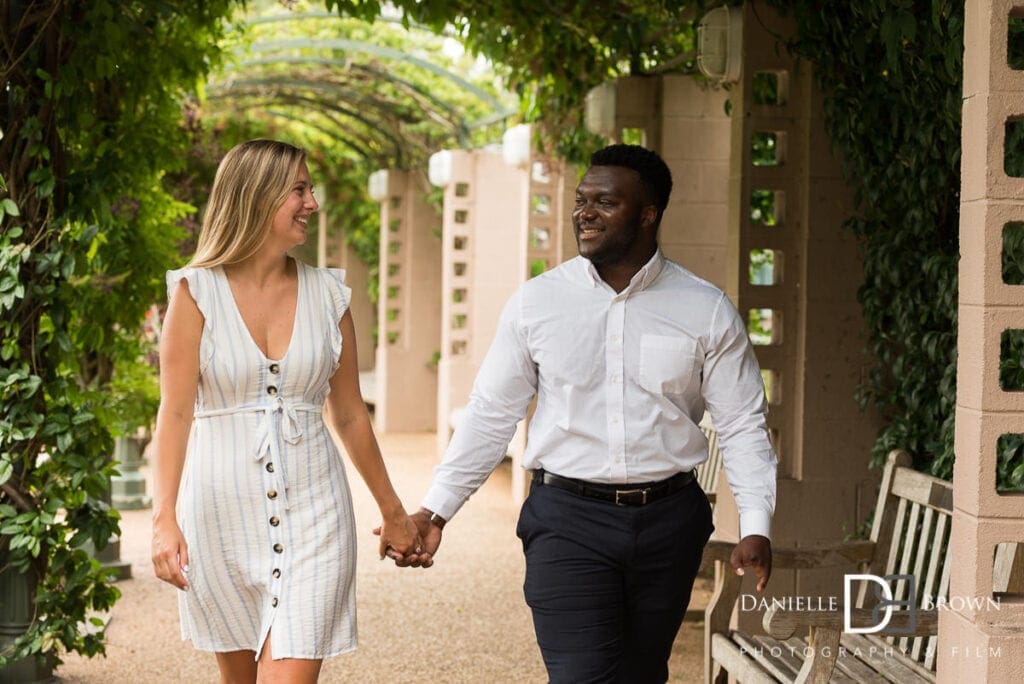 Just off the Great Lawn is a cute little bench. This spot is so perfect for an intimate little moment.