tessa & patrick | july 2016
session type: north ga engagement photo session
photographer: danielle brown
photographer's assistant: james brown
locations: cloudland canyon state park, rising fawn, ga
I want to start this blog post by giving major props to the one, the only, James Brown. Besides being an awesome husband, most of all during this shoot, he was my assistant. No, we're not a husband and wife team. From time to time, James does me a massive favor by helping me on a North GA engagement photo session. (I don't mean to sound snarky or sarcastic, it is always super awesome to have him along. Sometimes he can and sometimes he can, because he's the hardest working man in IT.) Shout out complete. On with the blog post dedicated to Tessa & Patrick's North GA engagement photo session.
I actually met Tessa in 2012 when I photographed her dad's wedding at Carter's Lake to Jennifer. Tessa is singing and playing the ukulele as Jen walks to Leo. This is noteworthy: she's a very talented musician and singer. So it was a pleasant surprise when out of the blue I get a Facebook message and call from Leo, asking me if I'd be available and willing to shoot Tessa's wedding since she just got engaged to Patrick.
north ga engagement photo session | the overlook @ cloudland canyon
To understand Tessa and Patrick is like unlocking the secret to a great relationship. If I had to describe Tessa as an animal, I would think of her as a butterfly. She's lovely, social, and just has the most wonderful light and large-hearted sense of people and adventure. She's just so genuine and charming, you'd have to really try to not like her. And you would fail. When I had the pleasure of getting to know Patrick, it was clear that he is the yang to Tessa's yin. If I had to pick an object that I think of when I think of Patrick, it would be an anchor. A beautifully sculpted anchor. As always, Patrick is impeccably dressed and groomed, his personality grounds Tessa in reality in the most gentle loving manner, the way an anchor keeps a boat caressing the shore, safe from any harm.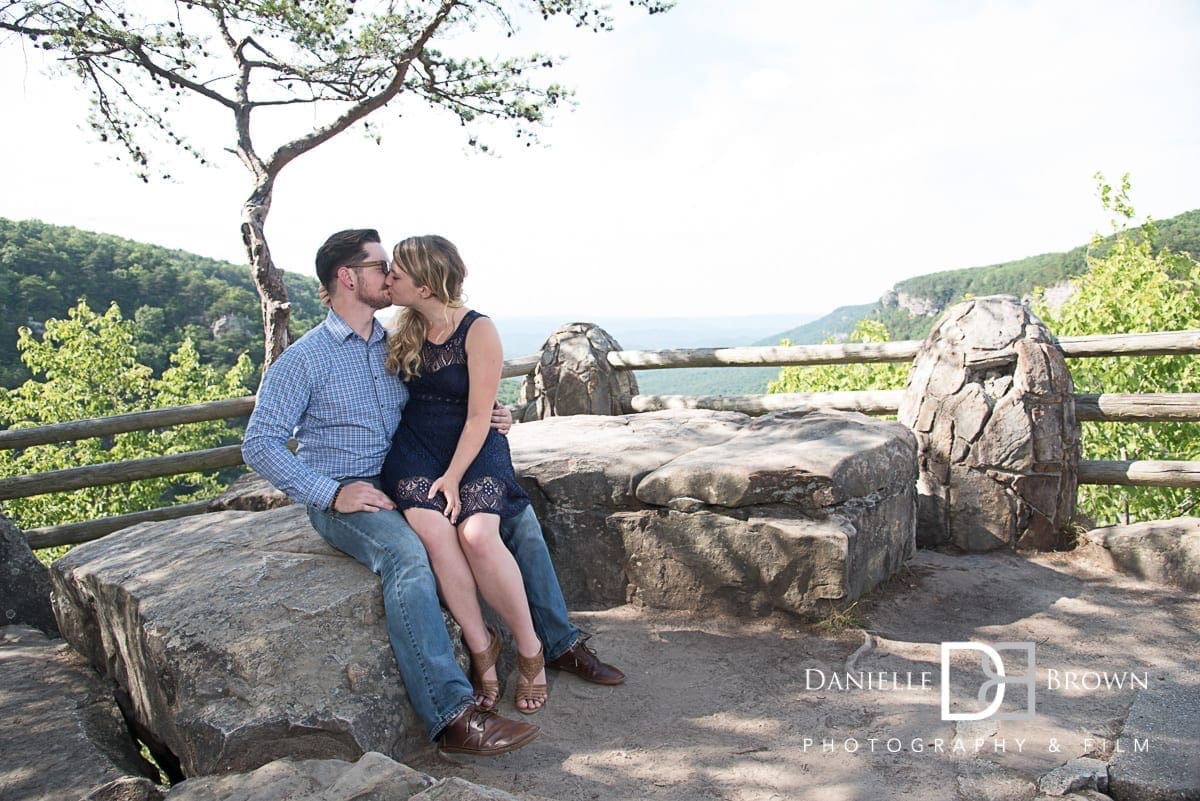 Needless to say, we had a thoroughly wonderful time during our extended North GA engagement photo session up at Cloudland Canyon. At first, Patrick's stoic and quiet demeanor was a bit uncomfortable in front of the camera. But, that my dears, is why you do an engagement session. See our blog on why do an engagement session here.
After a couple minutes of talking to Tessa and Patrick, cracking a few jokes – Patrick's also very into music, so we had a really good laugh at the fact that my James Brown is nothing like the famous James Brown, he started to loosen up. The best thing to do with people who start out uncomfortable in front of the camera is to give them time to go, "This is good. I feel good. I look good. We're having a good time."
the overlook continued
I can't lie, I love this shot of Tessa giving me her best "sexy face."
She couldn't keep it going for very long.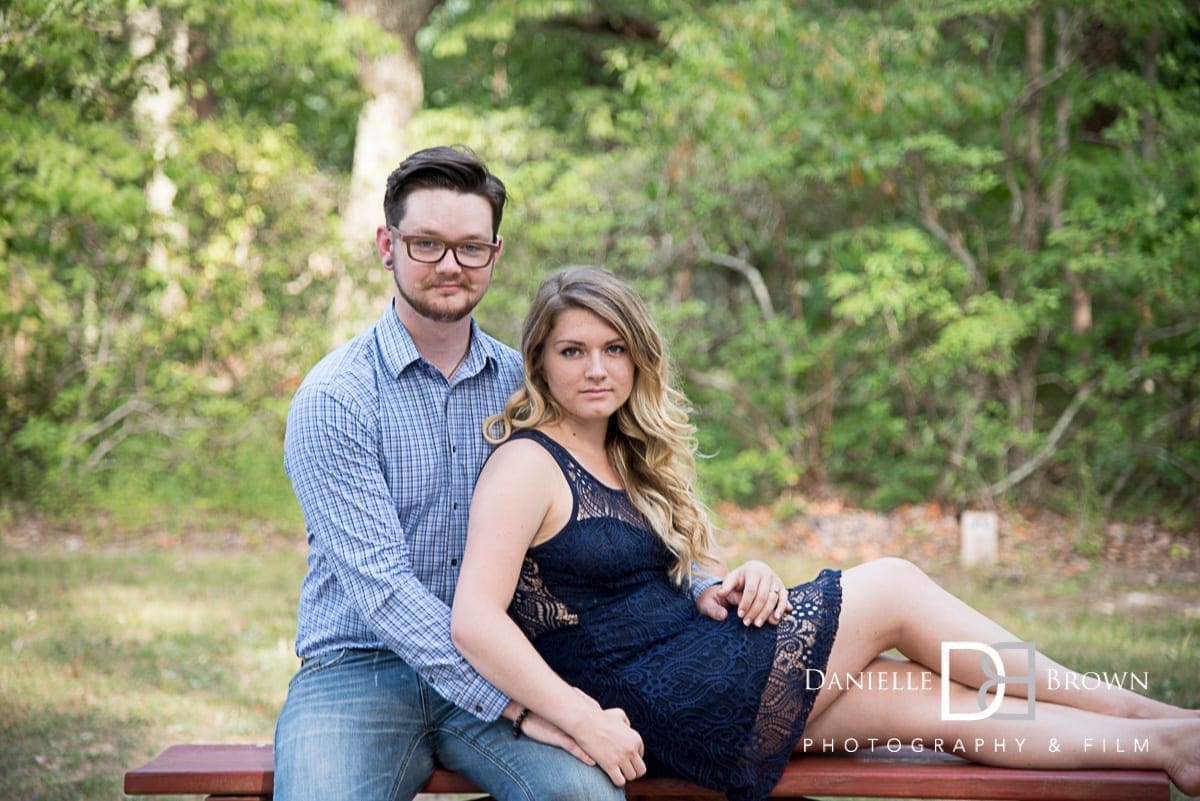 Tessa and Patrick's wardrobe selections were totally on point. I loved how they both wore blue in a clean modern way but not overly dressy for their North GA engagement photo shoot at Cloudland Canyon.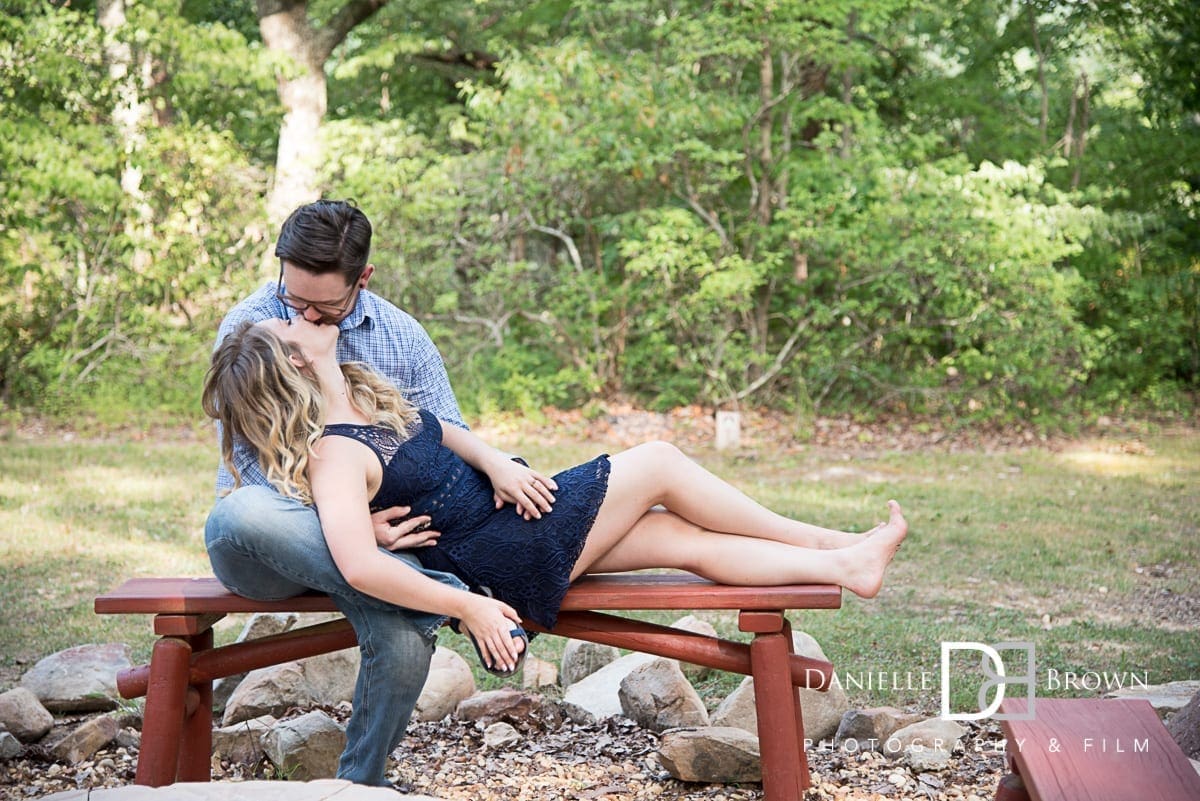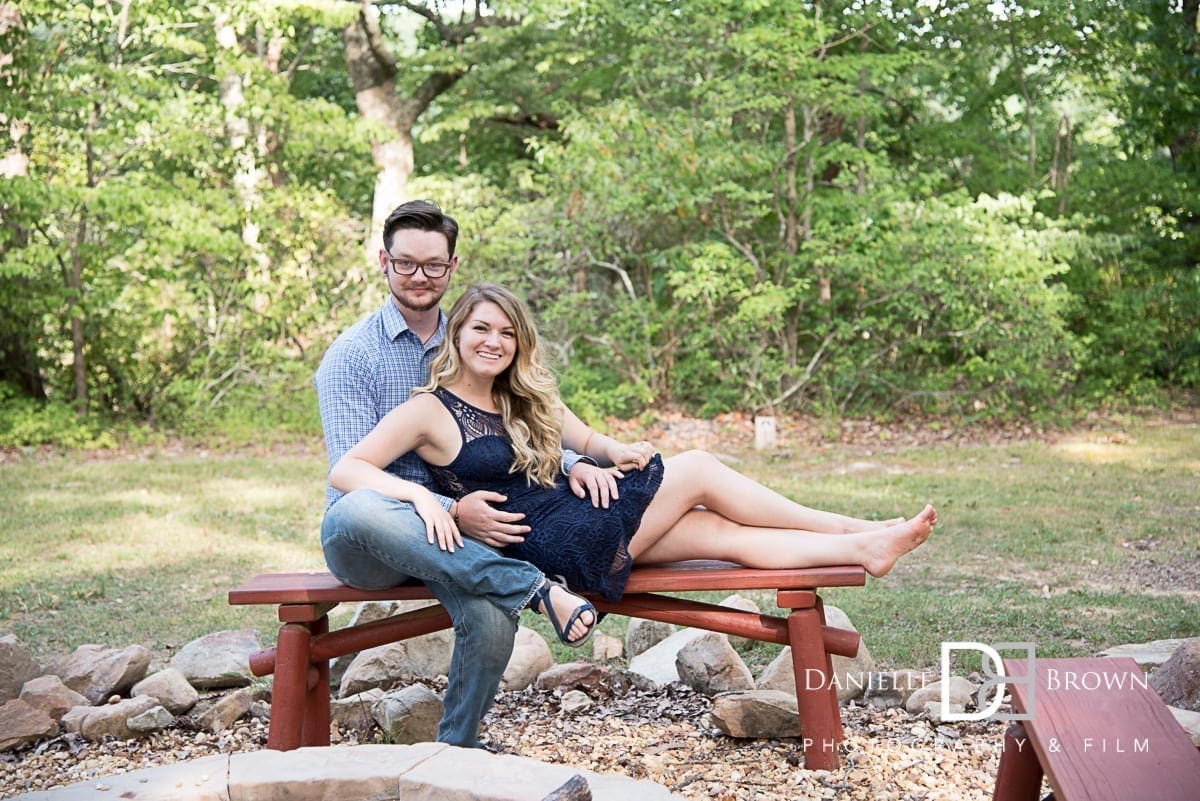 Why yes, Patrick did change his shoes from sitting in front of the fire pit to standing in the arch.
north ga engagement photo session | the fishing hole @ cloudland canyon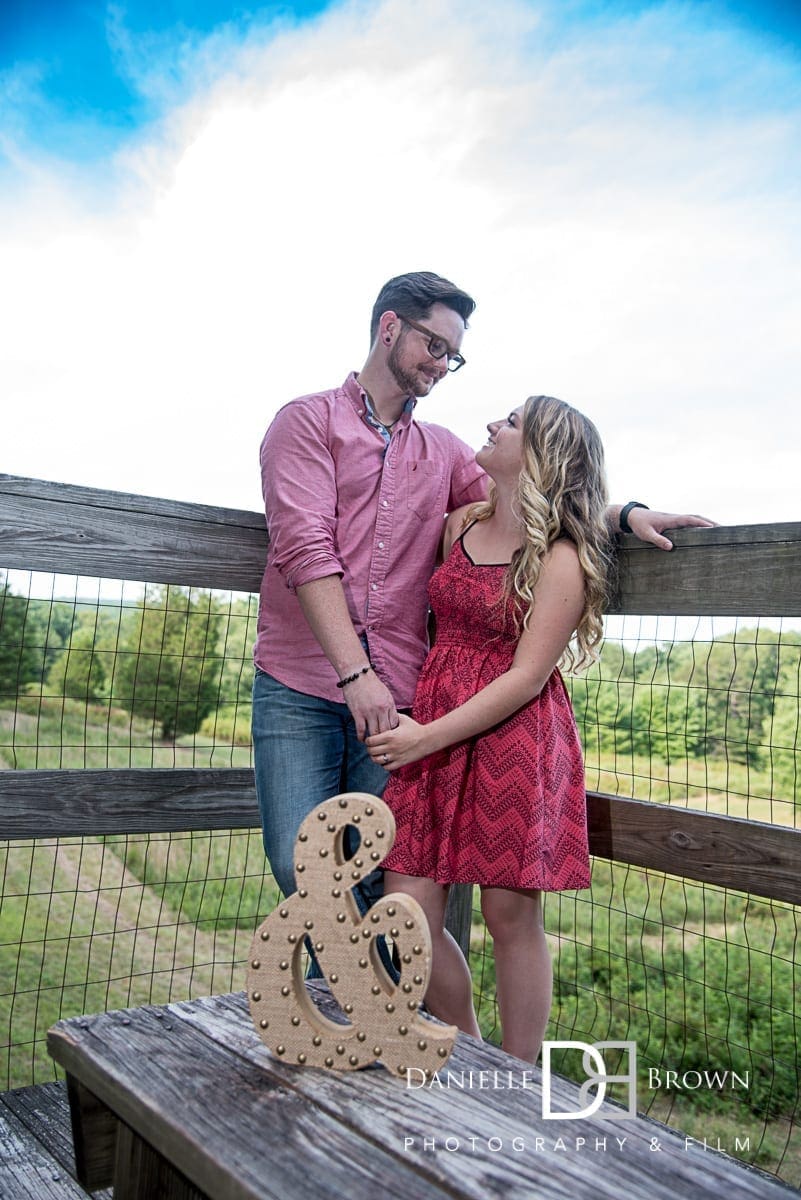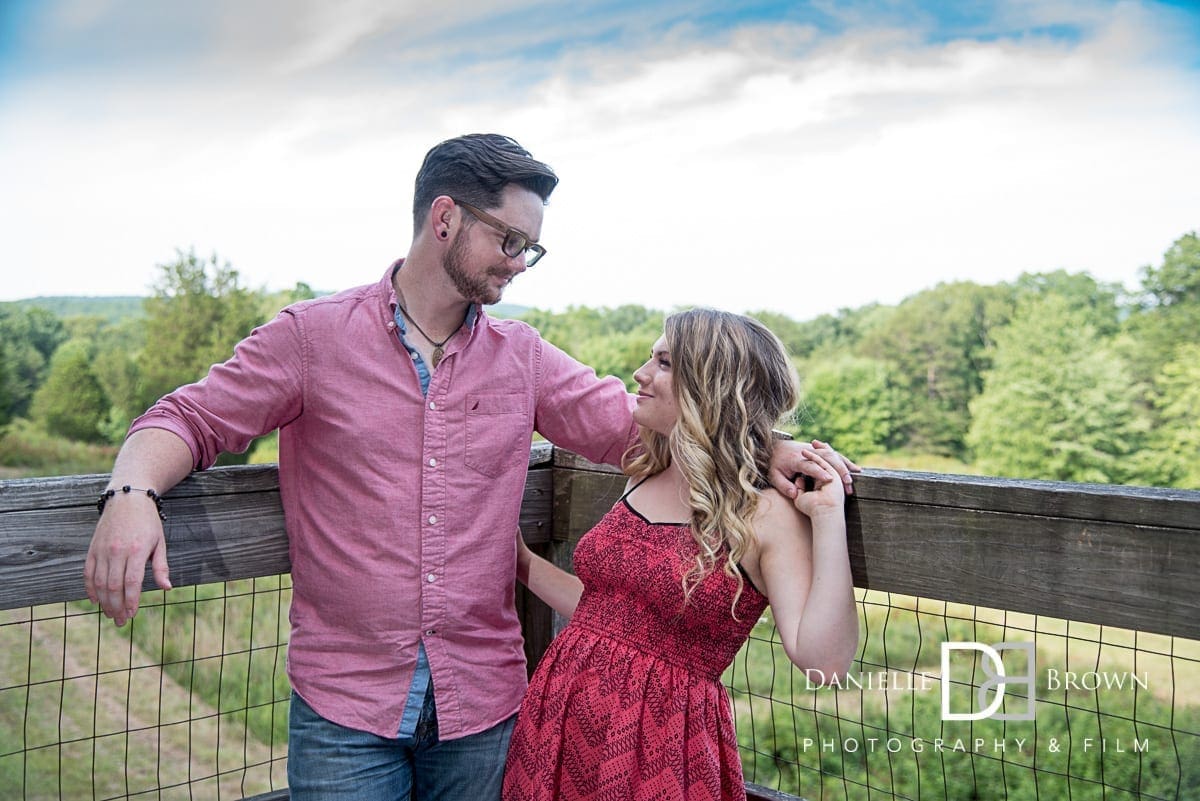 north ga engagement photo session | lover's hike to cherokee falls @ cloudland canyon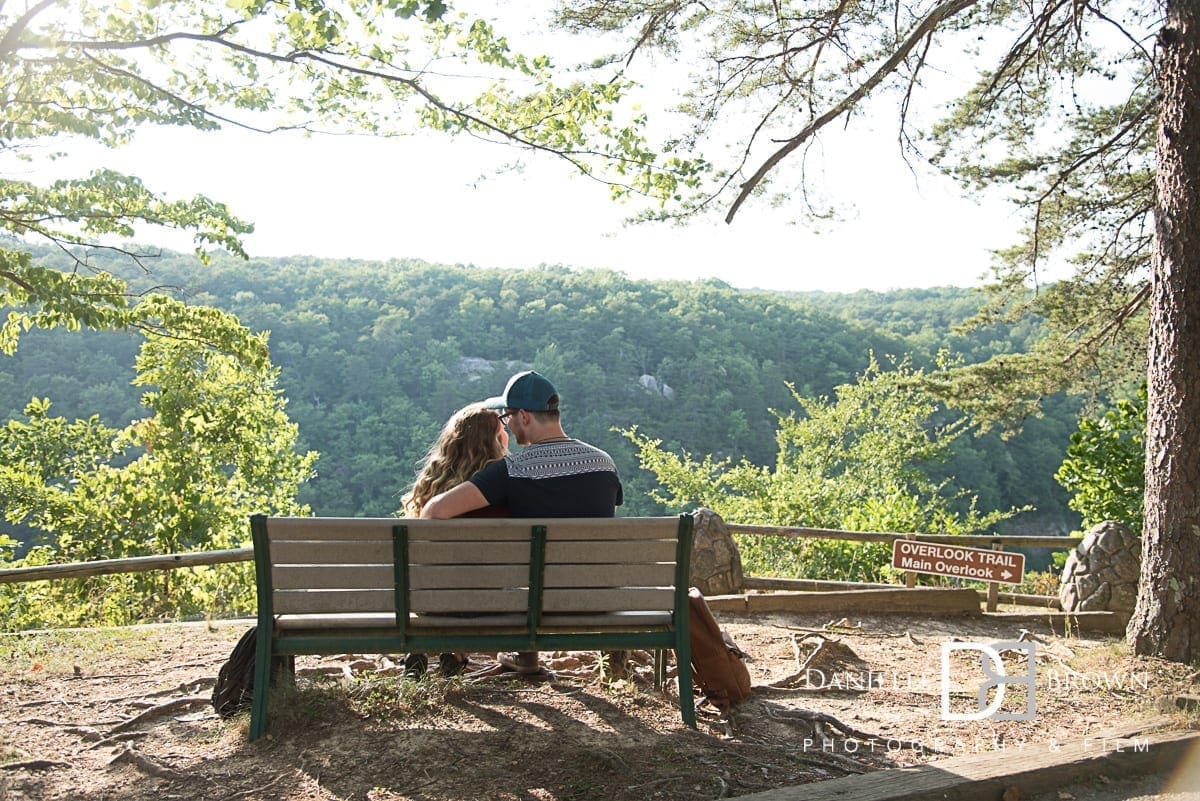 Tessa saw this tree and immediately sat in it with Patrick. In this moment, I knew I had 100% of Patrick. He was totally at ease, totally happy. His smile reminds me of an eight-year-old at Christmas; his joy is just so undeniably genuine. You can totally see that there is no one else in the world for Patrick other than Tessa.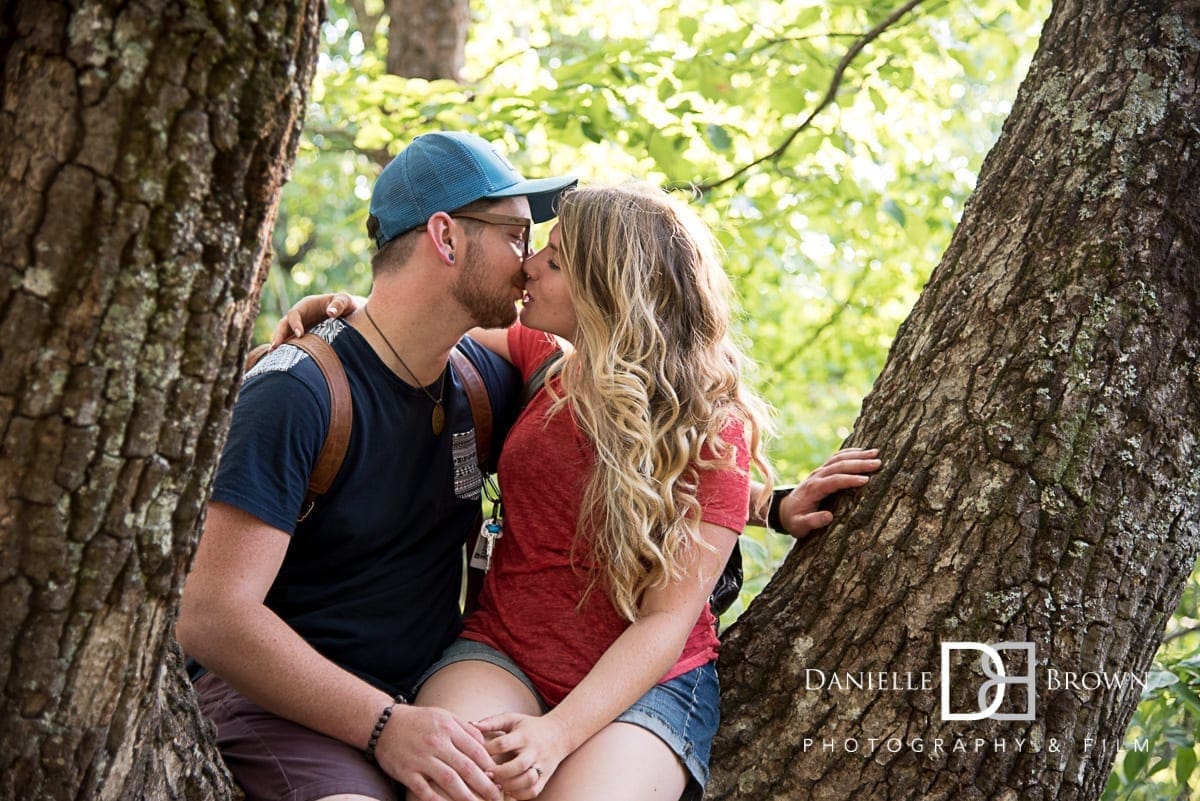 Unfortunately, because of it being unseasonably dry up to July 4th weekend, Cherokee Falls was not a raging waterfall, but a mere trickle into a pond below. But we made the best of what we had and I love the look of the dry falls stone behind Tessa and Patrick.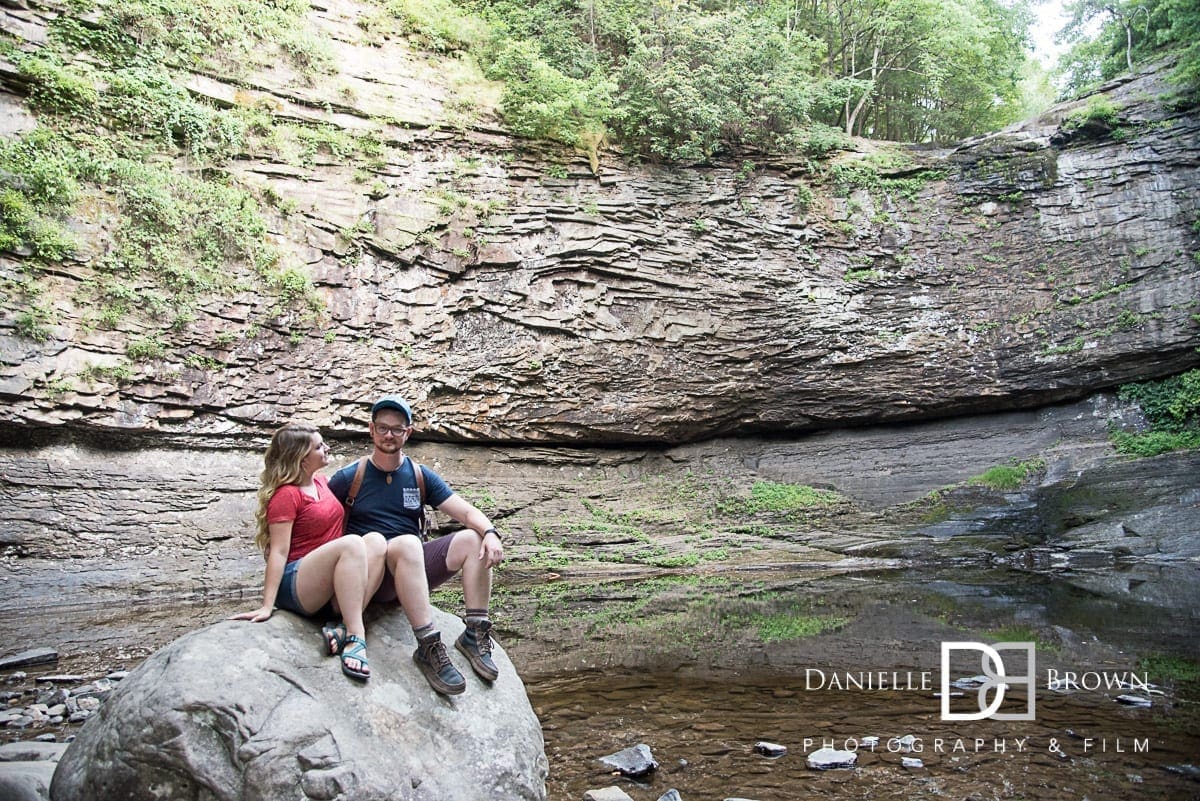 Patrick is completely obsessed with natural textures and finishes. His glasses, the frames, are made of wood. Check out their wedding pictures to see what his wedding band is… you'll never guess. It's not the traditional metal band. Leather and wood are it for Patrick, you might have noticed in the overlook picture, these backpacks are featured kind of like a trusty companion to Tessa and Patrick in the shot above. When Patrick was telling me how important his and Tessa's backpacks were to him, I had to get a good product shot of them in a parallel position as their owners.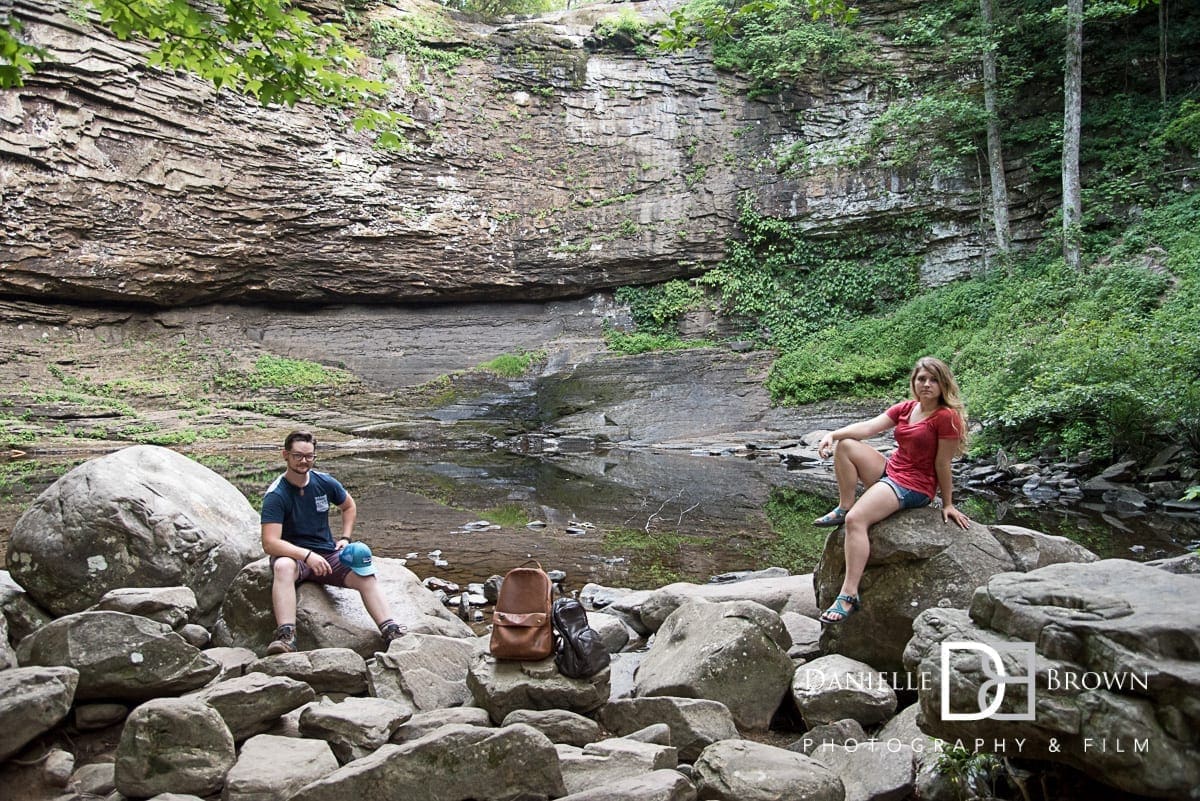 Avid hikers and outdoors people, we took Tessa and Patrick's North GA engagement photo shoot to exactly where they wanted to go. It became just a slightly more dressed up version of themselves at Cloudland Canyon than usual.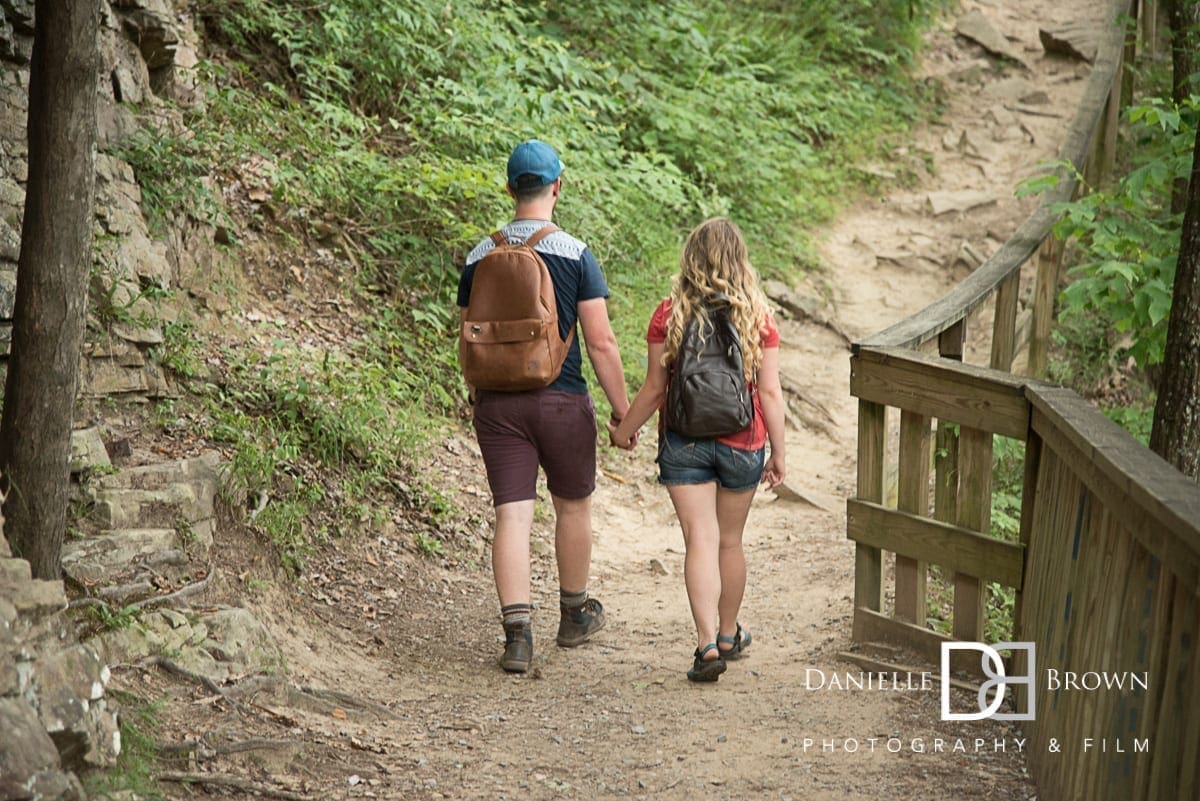 You can see how much in love Tessa and Patrick are during their North GA engagement photo shoot when they don't know we're shooting away.
the diamond in the rough | north ga engagement photo session
So as any amazing story would start out with, Tessa and Patrick were no different. First of all, they met in high school. Then they reconnected. They liked each other. After that, they fell in love. Tessa left for South Africa. Finally Patrick followed. In true Patrick style, this beautiful little piece of art would fly the 8,425 miles to be placed on Tessa's finger. So I expected no less when Patrick told me about designing Tessa's ring.
"This is an uncut diamond." Because Tessa was so bohemian and natural, Patrick couldn't have thought up a better gem for the main stone of Tessa's engagement ring. As he explained it, "Tessa is beautiful, natural and unique. There is no one like her, I could never give her a ring that wasn't as equally unique as she was." He also commissioned an artist on Etsy to make the setting: a bark/leaf combination that embraces that uncut diamond.
We happened across an abandoned bird's nest and tucked in Tessa's ring.
Once Patrick told me about the bark texture on the band of the ring, I had to showcase it in a natural setting.
LIked this? Check out more North Georgia engagement photography from Danielle Brown Photography here!