(Mini-Session) Prom Photographer – Atlanta GA
Session Date: Saturday, April 11, 2015
School: Cherokee High School, Canton GA
Seniors: Kassandra & Halee
Shoot Location: Tuscany Italian Restaurant, Woodstock GA
Photographer: Dani Brown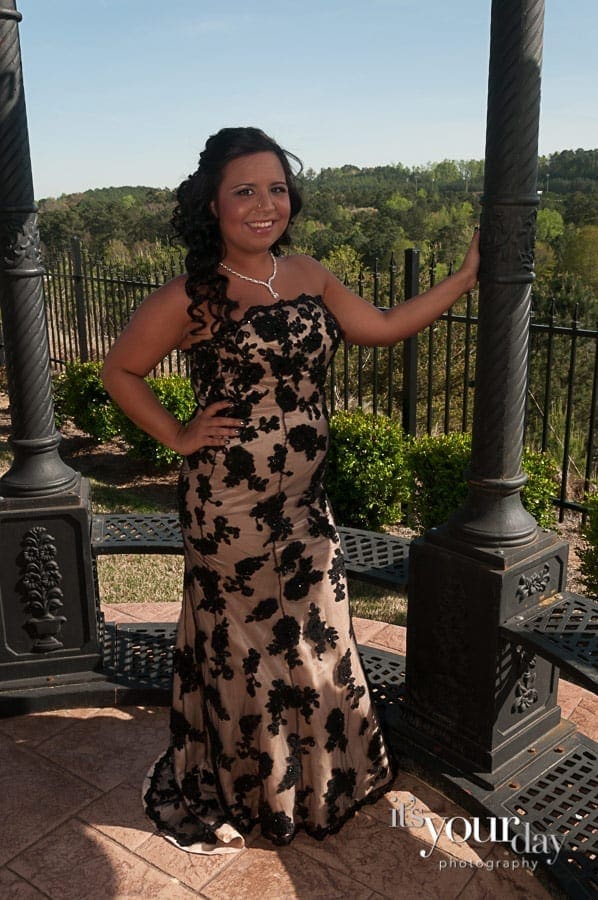 Kassandra looked smashing. Her dress was champagne with black lace overlay. She was a great subject. As a prom photographer Atlanta GA, I get to work with a lot of fun high school seniors going off to prom. Kassandra was radiant.
The staff at Tuscany were very kind to let us do the girls' mini session on the back patio. The back patio has an amazing view! The weather was perfect. It was a nice 70 or so degrees and sunny. The sun was very bright. With the help of Kassandra's cousin and mom, we shaded Kassandra and Halee for their portraits.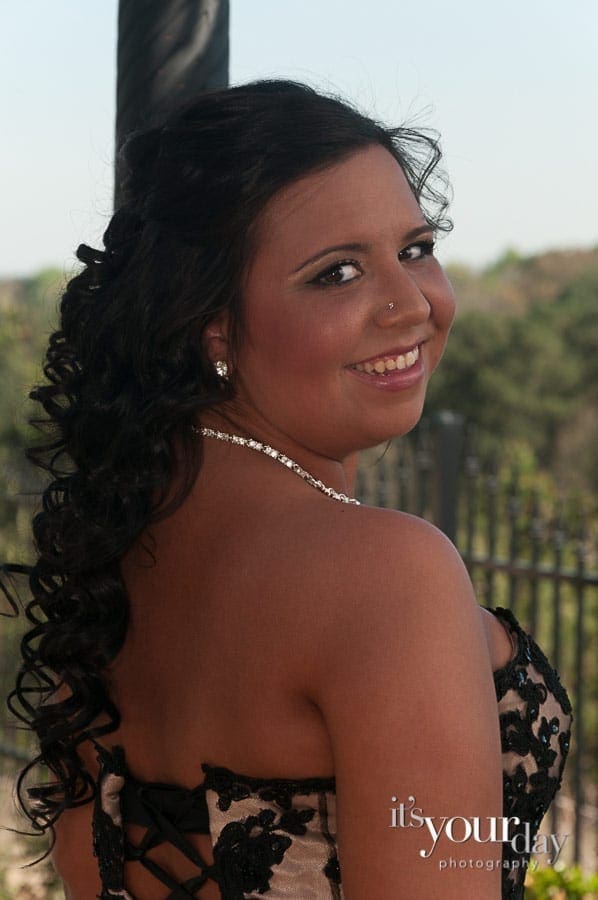 Kassandra's hair was set in a beautiful spiral curl set. Curls were cascading down her back and shoulders.
Her dark hair was matched by her lovely dress. Her tan and black dress was just right for her hair and skin tone. The lace overlay on the dress was both classic and elegant.
Tuscany's back patio faces south and east. To the south is Marietta and Atlanta. To the east, we find Roswell.
Kassandra is a senior at Cherokee High. She is class of 2015.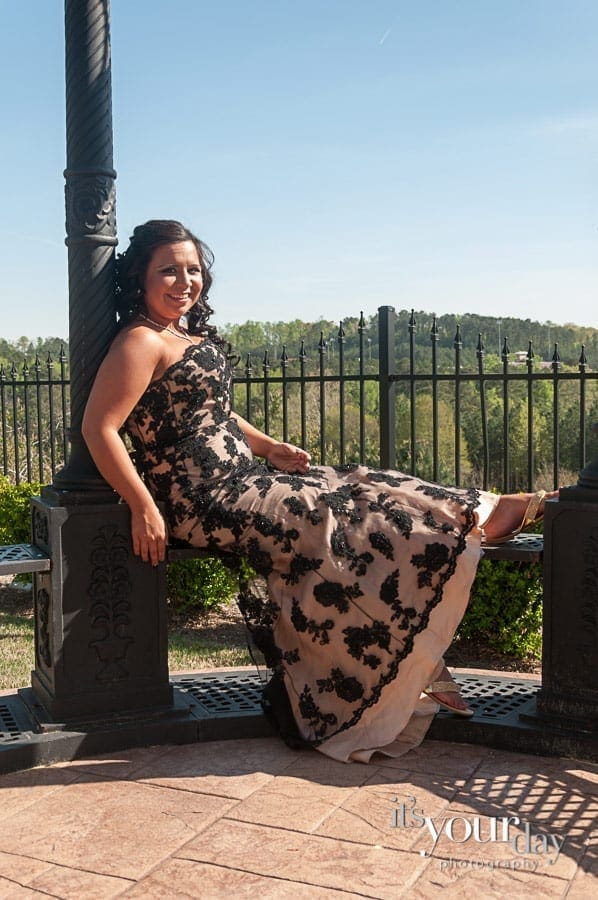 Her jewelry was elegant, vintage-inspired y-necklace and matching stud earrings. She chose gold-toned sandals for her footwear.
Both practical and pretty, especially for prom, where Kassandra was going to dance the night away!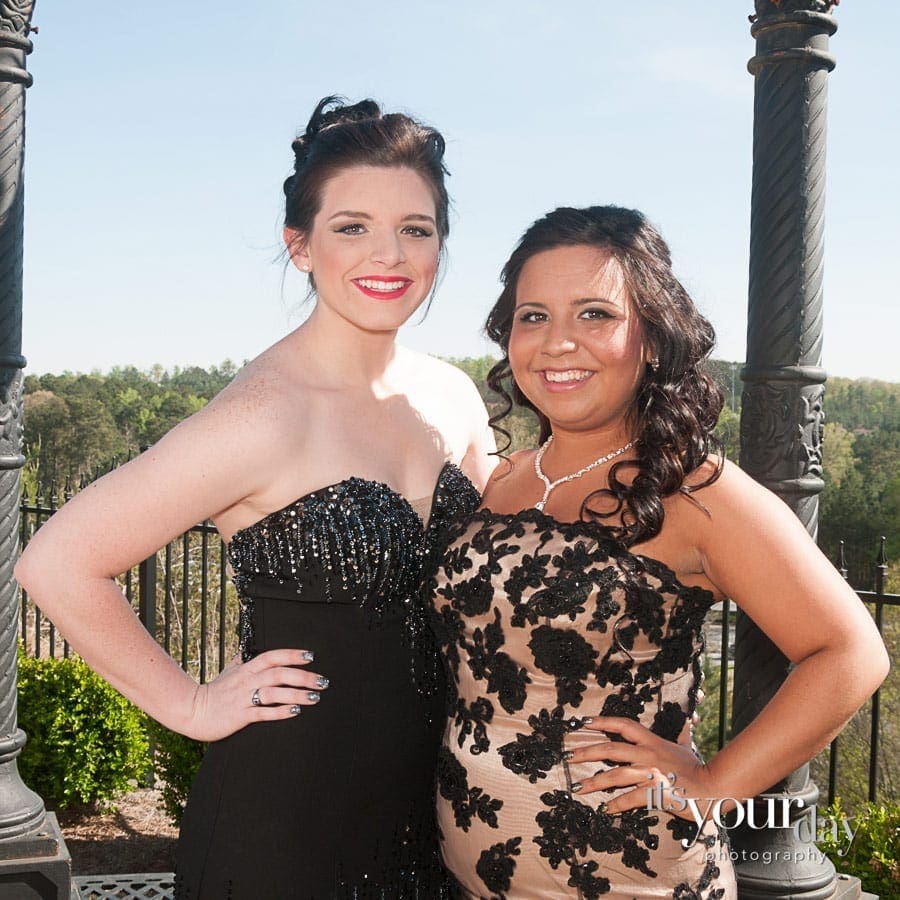 Kassandra's good friend came along. Halee had a pretty up-do. Halee's gown was black with beading. The dress was a mermaid or trumpet cut.
Halee's make-up was a classic red lip with an light eye. Her fair skin, dark hair and classic look was amazing for prom. She looked wonderful.
Cherokee High School is in Canton, GA. Halee is class of 2015. Halee goes to Cherokee High School.
Many thanks to Kassandra's cousin. He was nice enough to be my helper for their shoot. Our mini-session took about 30 minutes. I wanted to make sure they weren't late for prom! Prom was hosted off Peachtree Street in Atlanta, GA.
Thanks to Tuscany! Tuscany has a beautiful view of Woodstock.
Tuscany is located in Towne Lake. The back patio made a great backdrop for the girls' mini photo session!
Watch the slideshow from Kassandra and Halee's photo session!
Want to see more High School Senior or Prom Photography sessions? Visit our Atlanta High School Photography page.