vikram & sheettal | atlanta surprise proposal | piedmont park
session type: surprise proposal piedmont park
location: piedmont park, atlanta ga
photographer: danielle brown
As soon as I read Vikram's request for a photographer to capture his surprise proposal in Piedmont Park, I knew we'd be a great fit. We had a few back and forth messages before we met in person to go over his plans. It just so happened that I was doing portrait sessions in Piedmont Park the morning that Vikram was available to meet. Saturday morning, the 25th to be exact, we met at Piedmont Park.
Vikram shared with me that he had to fib to get out of the apartment without raising suspicion.
surprise proposal piedmont park planning
So we took a walk through Piedmont for about an hour. During our walk, Vikram told me about Sheettal. And how much he loved her. He told me how they've been together for five years. And that he wasn't much of a romantic. That was going to change with his surprise proposal piedmont park.
Vikram filled me in on his plan. He wanted to come into the park through a grand entrance where they wouldn't have to fight crowds. There needed to be a view of the city during their walk and water. There had to be five stops on this walk. (I suggested the 14th Street Gate to enter the park.) The 14th Street Gate coming into Piedmont Park is a bit more quiet than where the Farmers' Market is held every Saturday morning.
welcome to the danielle brown photography piedmont park walking tour
From the 14th Street Gate, Vikram and I walked through the Active Oval. In the center of the fields, there is a lovely raised flower garden and arbors. Vikram also wanted a view of the city as part of his surprise proposal piedmont park. From the Active Oval, I showed him the Stone Steps. The Stone Steps are one of my favorite places to take couples during engagement sessions. Why should a surprise proposal piedmont park be any different?
So why the walking tour of Piedmont Park? Vikram confided that he's not known for being much of a romantic. He and Sheettal had been together for five years and he knew she was "the one." His piedmont park surprise proposal would take romance to 11. At each of the five stops, Vikram had wrote Sheettal a letter telling her what he loved about her; why she was important and what the word on the card meant to him in the context of their relationship.
The next three stops would get Vikram the lakeside view he wanted. I recommended the Lakeside Gazebo and Lake Overlook for stops three & four. The Clara Meer Dock would be where the magic would happen.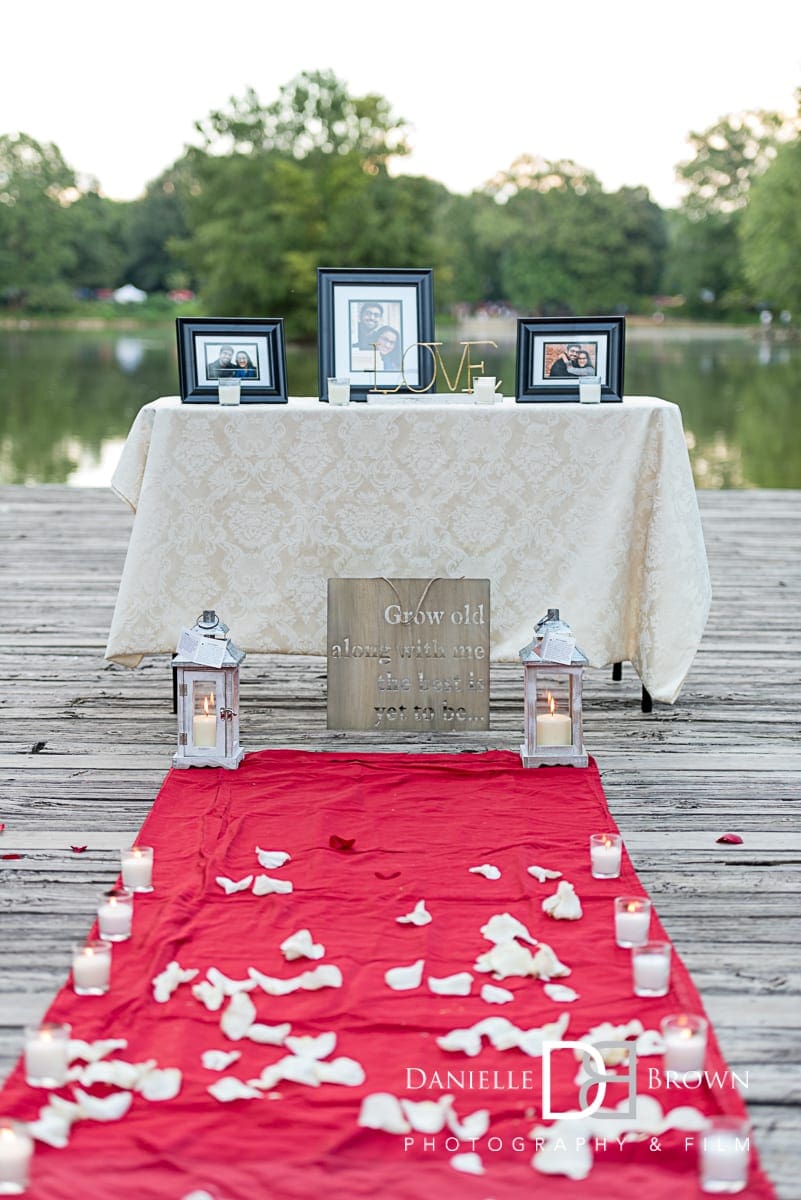 popping "the big question" dockside
So let's be real. No one is an island. I'm a big believer in having people you can count on to help when you need it. Vikram was no different. He had a whole crew of people backing him up for his surprise proposal piedmont park. The Clara Meer Dock was beautiful. With the help of family and friends, Vikram had the red carpet rolled out for Sheettal, literally.
Red carpet, candles, rose petals, pictures of Vikram & Sheettal from their life together… it was VERY romantic.
And then we waited for Vikram and Sheettal to arrive. I tried to shoo away a duck. It didn't work.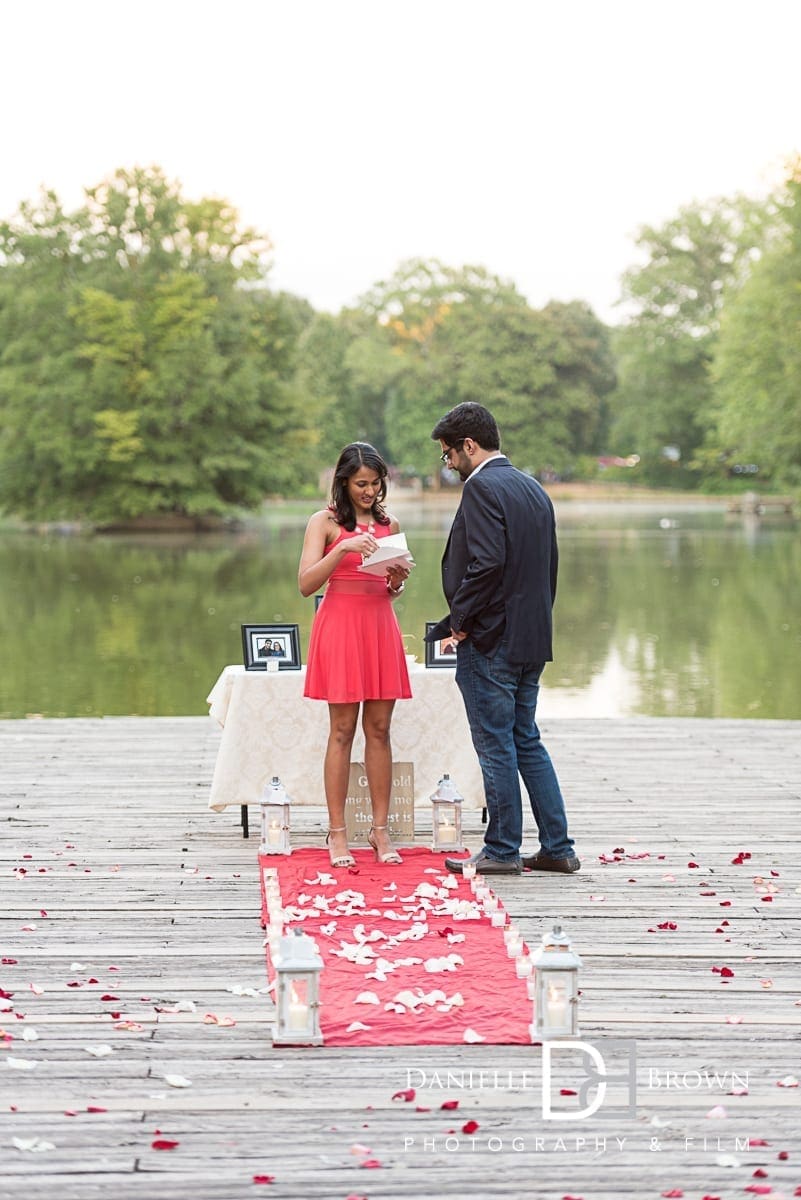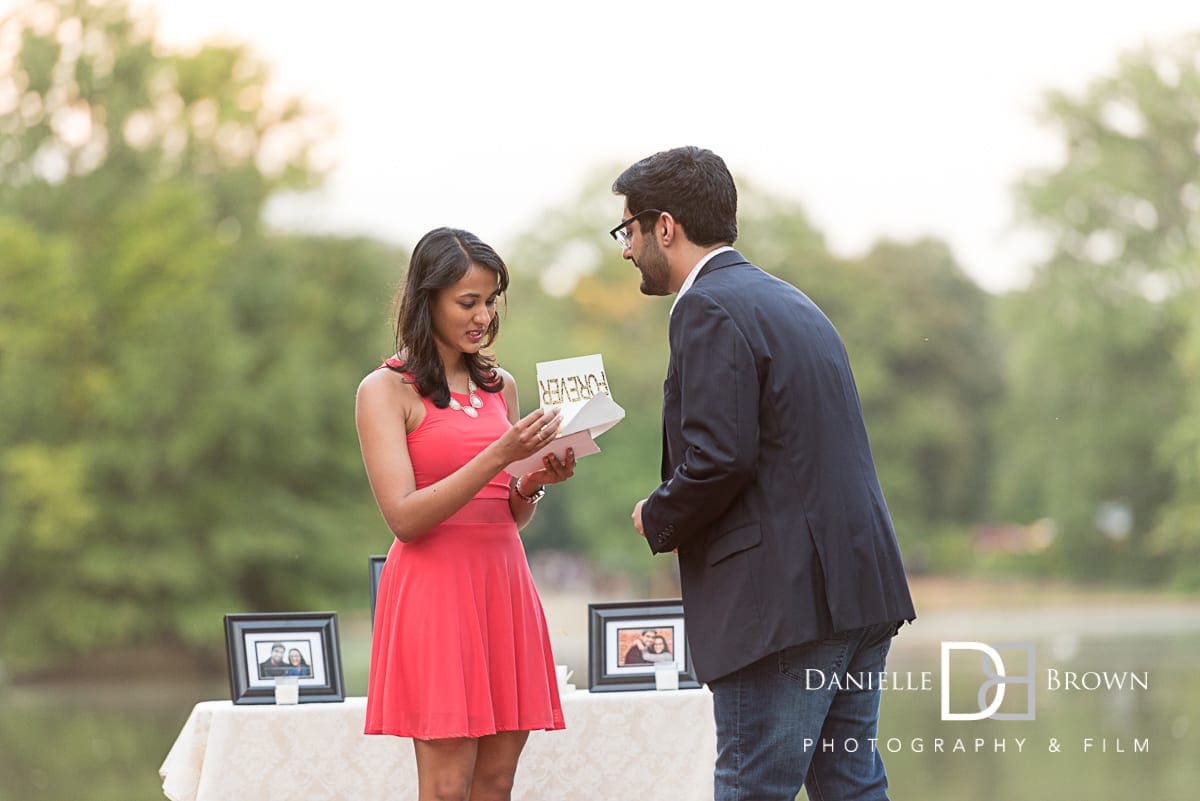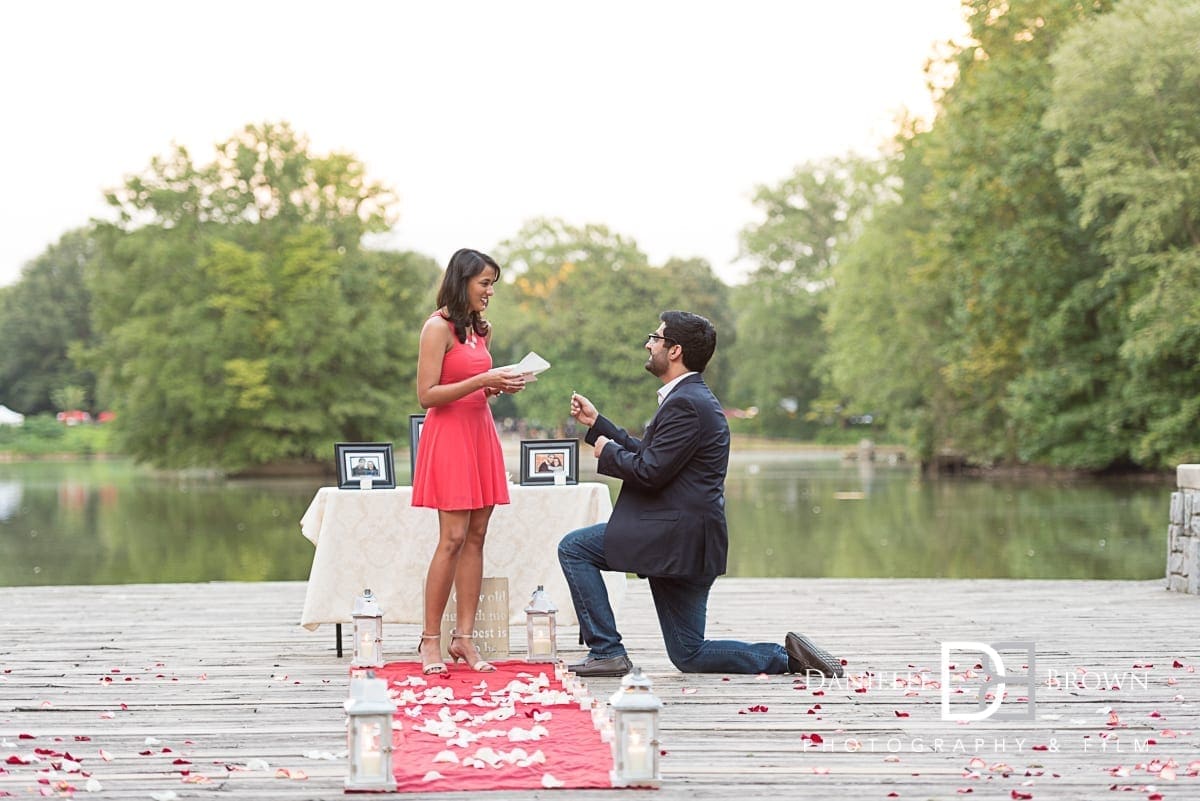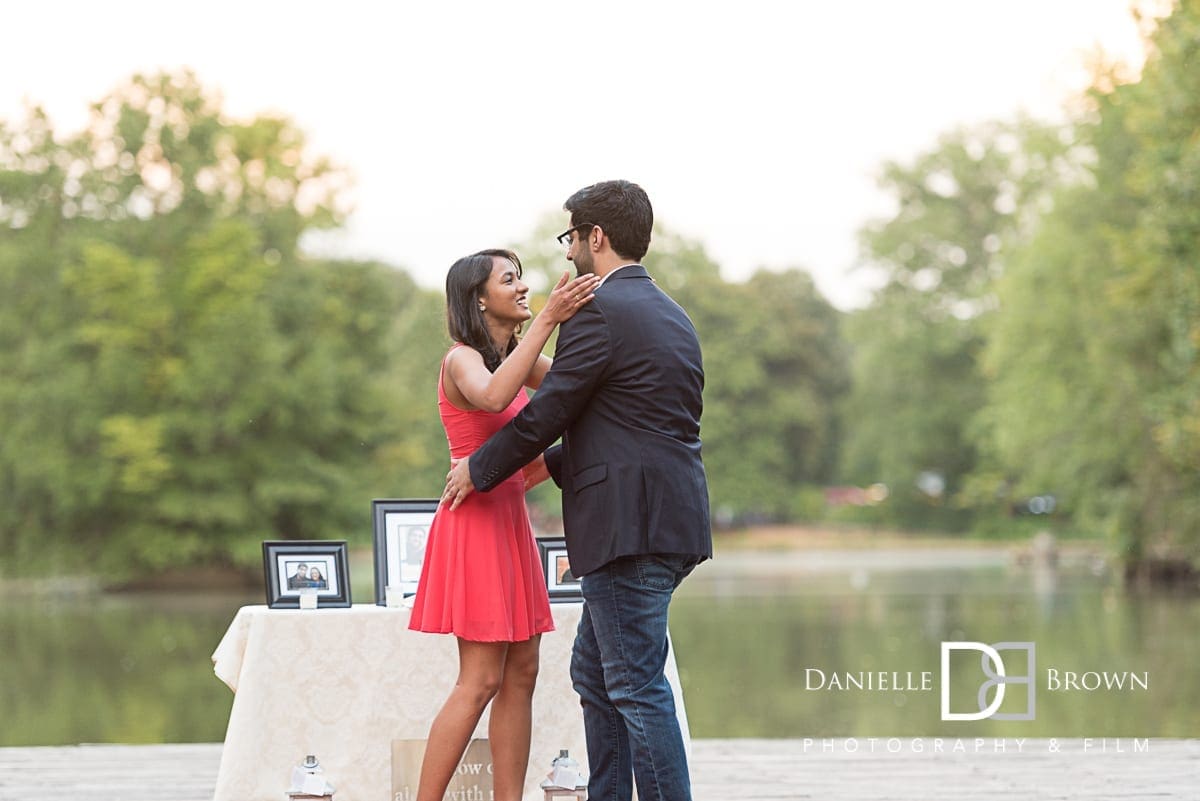 super duper romantic proposal
There's a reason the guy always drops to one knee during a surprise proposal piedmont park. It's kind of awesome and romantic. Vikram got his romance badge that day.
They say a picture is worth a thousand words, so I'll stop talking now. You can just look at the job this atlanta wedding photographer did on Sunday, September 2nd, 2018.