Get Your Sexy On! Atlanta Boudoir Photography / Glamour Shoot
What: Get Your Sexy On! Glamour/Boudoir Photography Session
When: Saturday, January 30th
Where: 4 star hotel in Perimeter Mall Area
How Many: Only 5 appointments available
How to Schedule: Call 678.978.3880 or Email [email protected]
Appointment Times: 9am, 11am, 1pm, 3pm & 5pm
How Much: $300 includes full hair & makeup styling by CaliRose Beauty Team, photography session & $200 Studio Credit
How Long: Approximately 3 hours. 90 minutes Hair & Makeup / 60 minutes Photography Session / 30 minutes+ to select your photos
Available: Wall Art starts at $150 & Collections begin at $900
Payment Accepted: Cash, Personal Check, Visa, MasterCard, American Express & Discover
Delivery: In time for Valentine's Day Gifts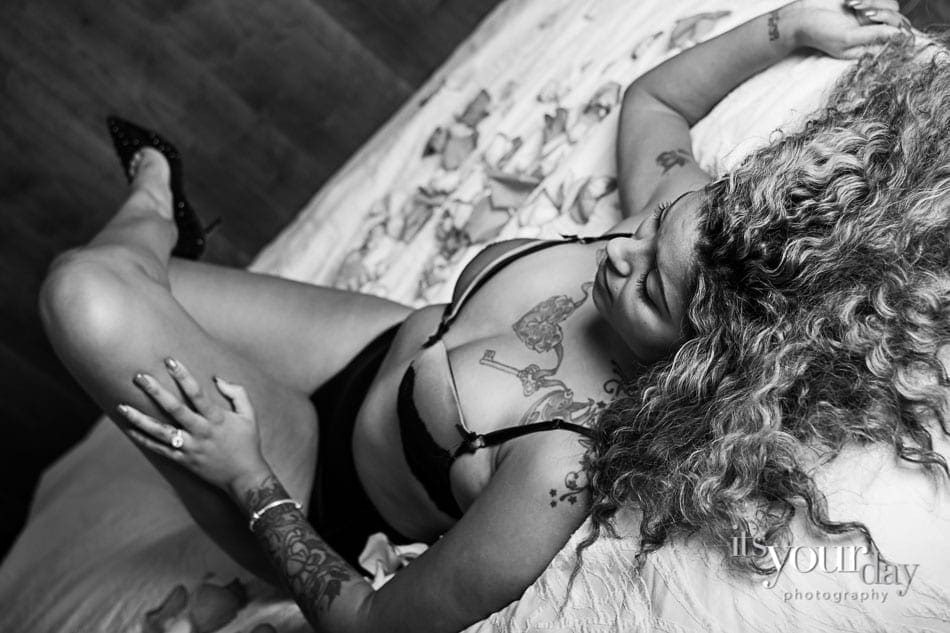 ---
Atlanta Boudoir Photography / Glamour Shoot FAQ
How much?
This amazing $300 special event includes full hair & makeup styling by the talented Jessica and the CaliRose Beauty Team. Because we're feeling generous It's Your Day Photography is also including a $200 studio credit to used towards wall art or a collection of the most beautiful photos you've ever seen of yourself. Our normal session fee (including hair & makeup) is $400 with no studio credit.
Sessions are limited and are on a first-come, first-served basis!
We are only offering 5 sessions currently. Please don't wait to book your session. Once your session is booked, you will receive an email about your shoot.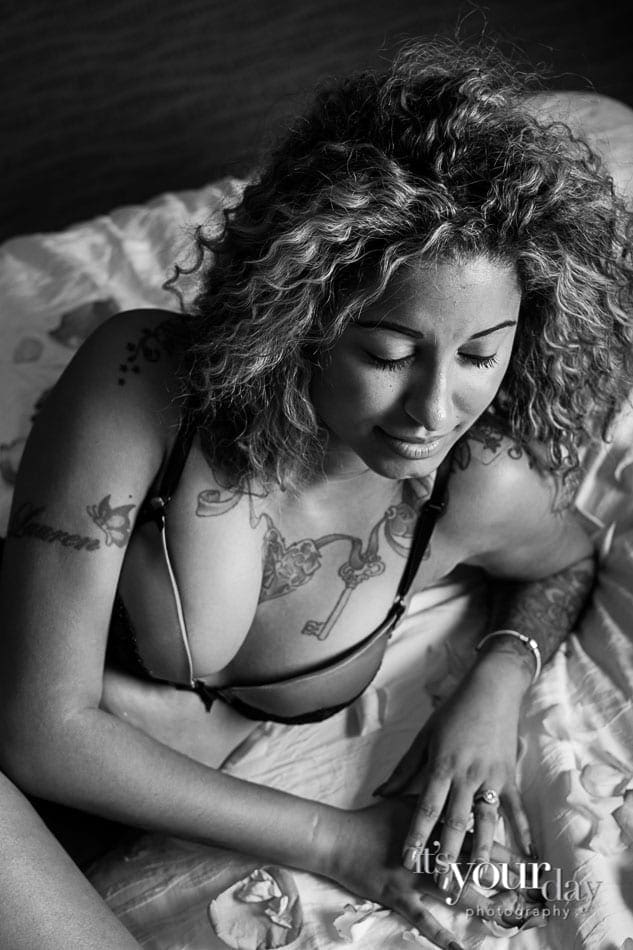 YES! Let's do this! What do I do?
Session times are by appointment only. You will need to call / email to schedule your appointment with Dani (the photographer). Please email [email protected] or call 678.978.3880.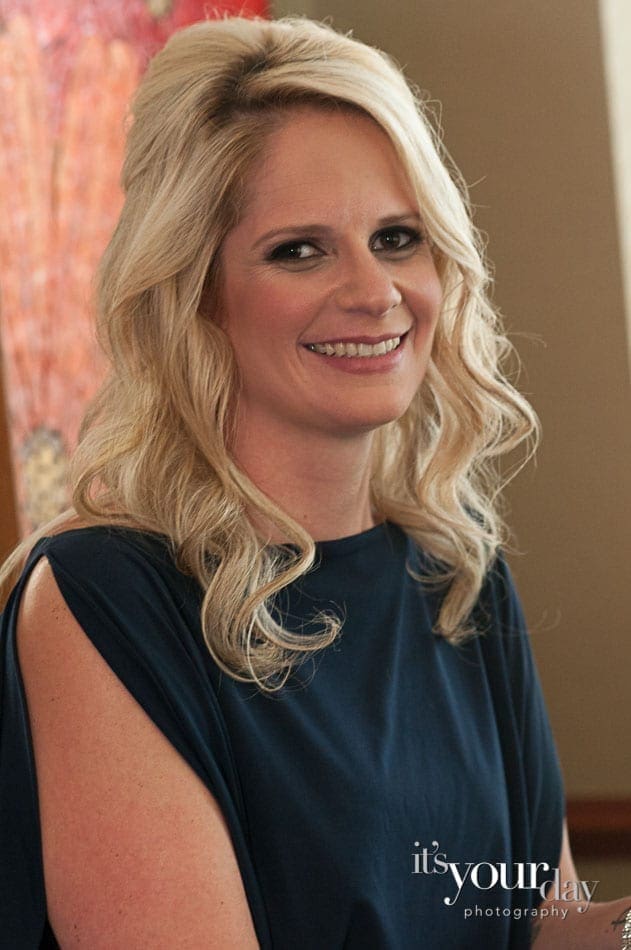 How long will this take? What part of the day should I ask for?
Sessions take approximately 3 hours. Hair & Makeup, 90 minutes; Photo Shoot, 60 minutes; and 30 minutes to choose images. Our earliest appointment begins at 9am, last appointment at 5pm.
What do I wear? I don't know how I feel about being in my underwear in front of strangers
Wear what makes you feel sexy! You can wear dresses, a ball gown or your guy's favorite t-shirt! If you prefer to have your shoot as more glamour and less boudoir, that's totally fine! Feel free to bring a few things and our team can help decide what will photograph best!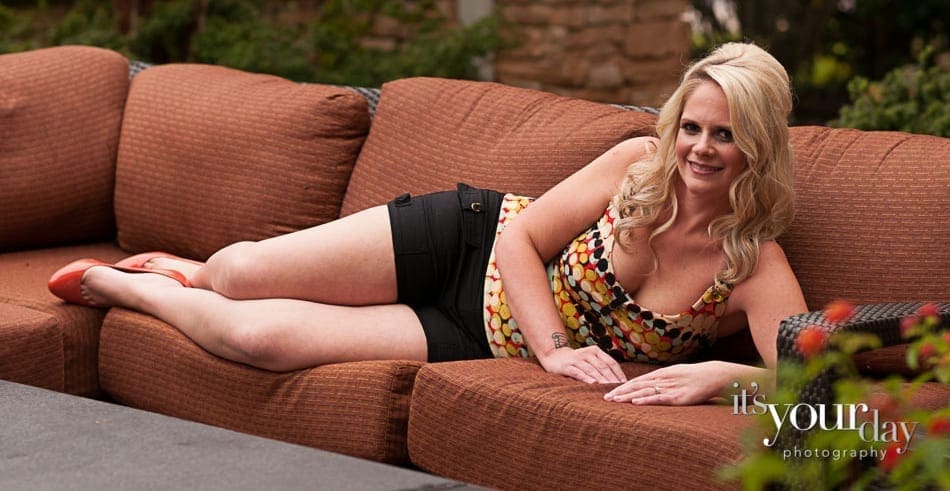 For the comfort and privacy of our clients, we only work with an all female team.
Celebrate the amazing person you are. You don't have to wait for anything — you're perfect right now. If you've been thinking about doing this as a gift for your special someone or a gift for you, go for it!
We are offering a pre-shoot wardrobe consult (over the phone).
For glamour, we generally recommend the following:
Fitted clothing, not skin tight
Solids tend to photograph better than patterns. When in doubt, ask!
Avoid loose or very flowy tops (they tend to make women look heavier in camera)
Bring high heels, the taller the better, if you're into that kind of thing (aren't we all?)
Glamor – bring 3-5 outfits that make you feel great when you put them on
Wardrobe recommendations for Boudoir Sessions:
Corsets & Bustiers look amazing on. Generally they give great shape into your figure. They are sexy without showing too much skin.Corsets & Bustiers? What's the difference? Corsets generally have laces that can cinch the waist into an hourglass. Bustiers usually have boning (ribs running from top to bottom) and lift the breasts like a bra. Most of our clients prefer the look of a corset over a bustier for their session.
Pretty Panties
Matching Bra & Panty Sets
His favorite T-Shirt/Jersey/Button Up Shirt/Tie
Body Suit
Fancy / Sexy Slip
Garters / Thigh-high Pantyhose – we recommend the ones with the lacy tops
Silk Robe / Kimono
Bring high heels, the taller the better, if you're into that kind of thing (aren't we all?)
Boudoir – bring 3-5 outfits that make you feel super sexy when you're in them
OK, I've got my wardrobe picked out. How does Hair & Makeup work?
You'll enjoy about an hour and a half of pampering from Jessica and the CaliRose Beauty Team. Please arrive 15 minutes before your session time with no makeup on your face and hair washed 1-2 days prior (not morning of). Jessica will find the right color palette for you based upon your skin tone, eye color and your personal preferences/wardrobe selection. Please let her know if you have any problem or sensitivities to makeup, hair products or false eyelashes, as they are included in your makeup package.
During the 90 minutes you're in Hair & Makeup, Dani will be planning your shoot. As a wedding and portrait photographer for 7+ years, she will plan poses with your body type and wardrobe selection in mind.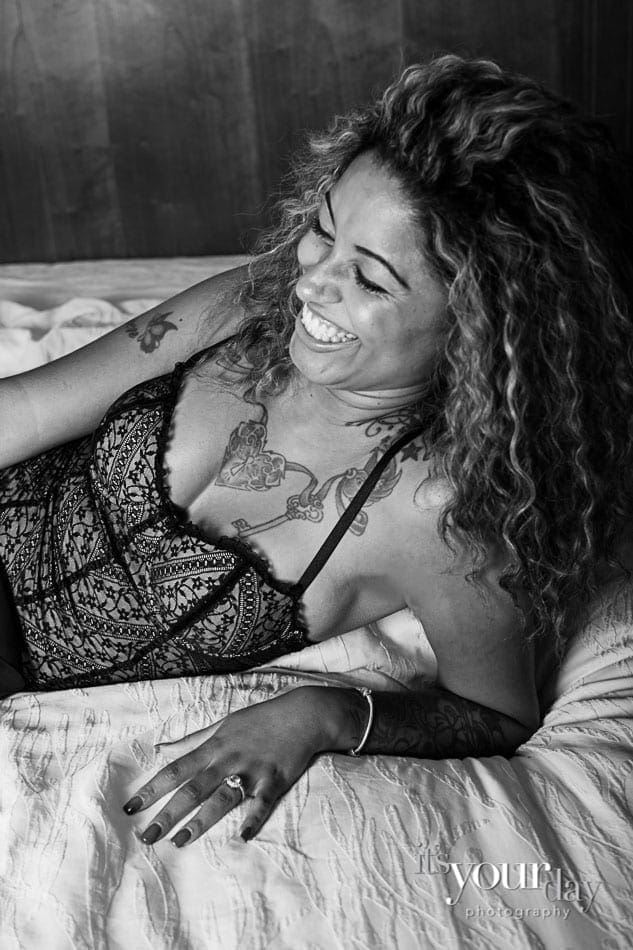 I've just had the best experience of my life. I can't believe how much fun that was! Now how do I see my pictures?
Your images will be shown to you (straight out of camera) after you're dressed/finished with your session.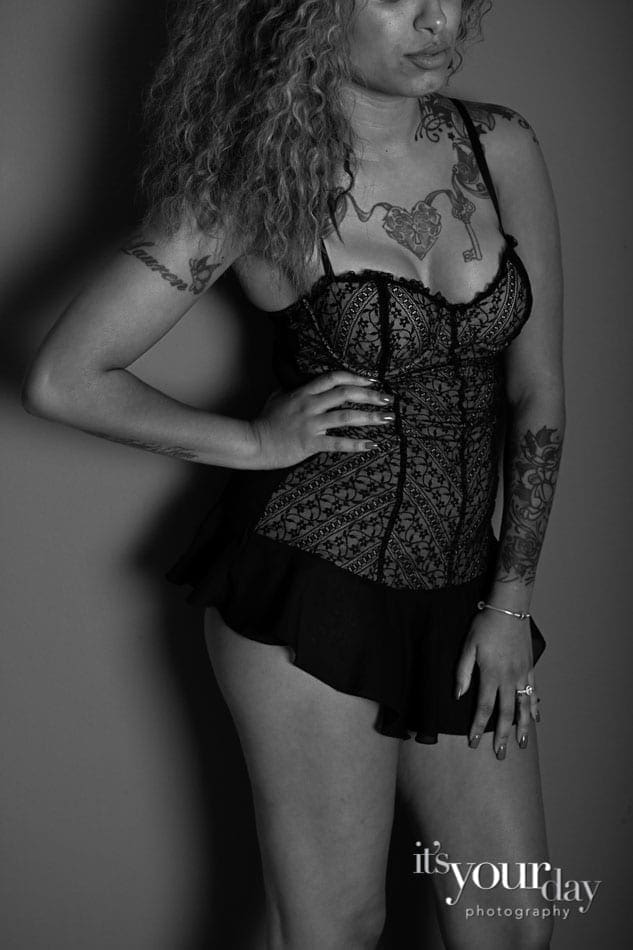 Will I be retouched? I have a thing.. and I don't want to see it in my pictures.
Yes, full beauty retouching is done to any selected/purchased images.
What are your packages? Do I get digital files?
All purchased prints come with corresponding digital file. Wall portraits start at $150. Collections begin at $900. You may have the fully edited shoot, as our gift to you, with any purchase of $2000 or higher.
How much do I have to spend? What's the deal with my $200 studio credit?
There is no minimum order. You're welcome to only use the studio credit and be on your way. $200 studio credit has no cash value and may not be applied to a future session.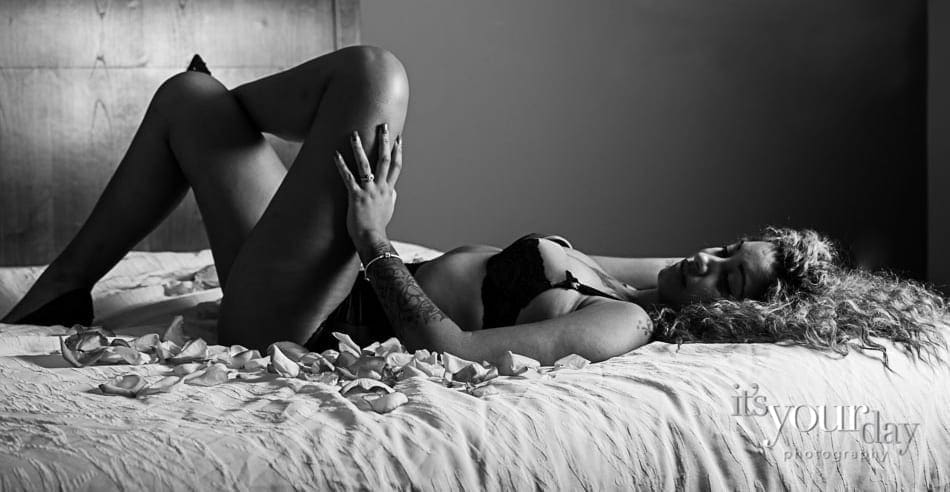 How do I pay?
We accept cash, check or all four major credit cards, Visa, MasterCard, American Express and Discover. We are happy to break your payment across multiple cards if you wish. Payment plans are also available, however, no product is ordered or delivered until your invoice is paid in full.
OK. We've done hair and makeup, taken pictures. I've seen, I've loved, I've ordered. When do I get them?
You will receive your images before Valentine's Day. As part of your order process, Dani will make delivery or shipping arrangements so your order is received before 2.14.16.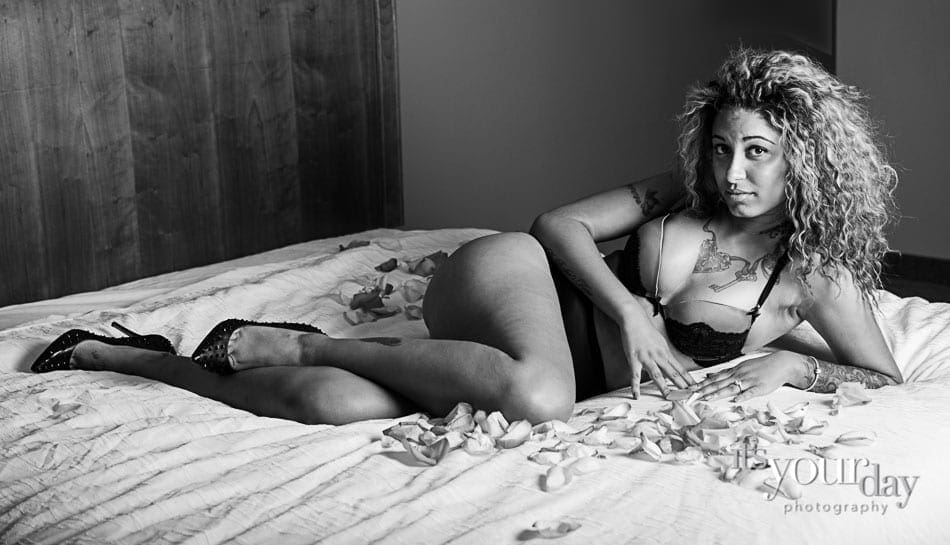 I don't want my pictures on the internet!
We totally get that. Lauren (Black & White pictures in lingerie) was a compensated model so we could show you what we're capable of. Betsy was a glamour shoot and didn't have problems with non-lingerie photos from her shoot on this page. We'd love to feature your shoot, however, we always ask first!
It is our job to create and give you the most beautiful photographs that you have ever taken. We always respect the privacy of our clients. If you are comfortable with your gorgeous images being shown, we will provide you with a model release.
We're done. Now what do I do?
You just had the most fun day ever; looking your best with your hair and makeup looking fierce! Go have an awesome date with your honey or head out to a girls' night on the town!