Alicia + Joshua
Date: Saturday, August 16, 2014
Ceremony & Reception: Crowne Plaza Atlanta Perimeter at Ravinia
Wedding Photography: Dani Brown
Photographer's Assistant: Rae Cole
Day-of-Coordination: Shadrika Cado
The best part of wedding photography atlanta, is getting to be there for these wonderful couples.
One of my favorite couples, OK, they're all my favorite to capture wedding photography atlanta, were definitely Alicia & Joshua. I was so pleasantly surprised to see Alicia's shoes. "Mrs. Williams" on the left & "Est. 8-16-14" on the right.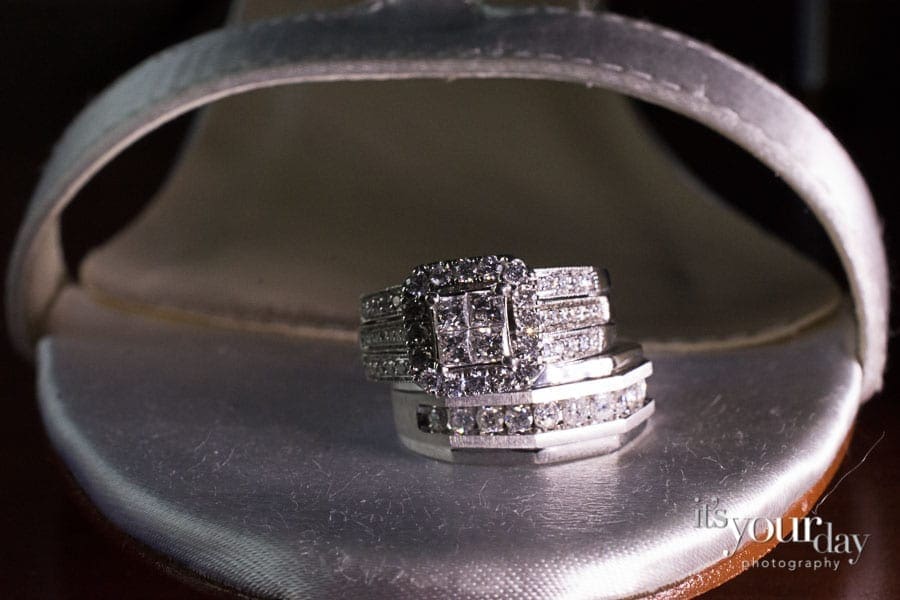 One of my favorite images to make are artful shots of the bride & groom's wedding jewelry and shoes. Some days I can even do both. Using my macro lens, we always try to make dramatic images of their rings. The symbol of their wedding and fidelity.

There is such a wonderful sense of family in so many of my Atlanta GA wedding couples. To make images like this one, Joshua and his brothers did a "thunder cat" move. At the time, youngest brother Joshua was the only one with just the watch, no wedding band.
It was so nice to see Alicia & Joshua's engagement photography used in favors for their wedding. They made fans, because it was definitely "warm" on their wedding day. They also custom labeled water bottles for their guests. I think they thought of everything that day!
Alicia had a beautiful and dramatic entrance to the atlanta wedding ceremony. We caught the groom holding back emotions as she walked to him.
Alicia was escorted to her groom by her uncle.
And the couple was united for their ceremony.
Before we run off to the reception, the family and bridal party pose for wedding photography atlanta, family formal portraits.
The happy couple on their way to their reception of family and friends.
Alicia's dress was a cascade of chiffon ruffles. She looked stunning. Alicia wore her hair in a lovely bun with a shoulder length veil.
Alicia and Joshua decorated their ballroom at the Crowne Plaza Ravinia with uplighting and a custom gobo with their names and wedding date on the dance floor. Don't ask me why it's called a gobo, I just know that's what you call it.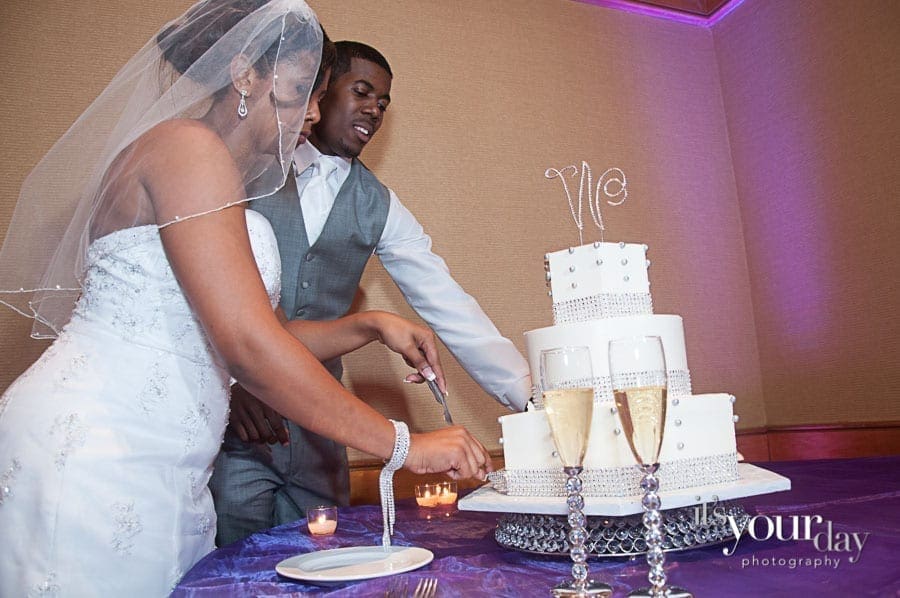 I loved the Williams' custom shaped cake. The top and bottom tiers were octagonal and round in the middle. With bling of course!
If you're going to do a bouquet or garter toss, do it right. Our wedding photography atlanta captured Alicia post-throw. It looks like her bridesmaid is getting the bouquet.
Joshua made quite a show of retrieving Alicia's garter. ; )
The two-story lobby of the Crowne Plaza Ravinia is perfect for wedding photography atlanta. This hotel has the most wonderful space for formal portraits of the bride & groom. We used natural poses for Alicia & Joshua. I'm not a fan of overly posed, unnatural looking poses. We always aim for images that look as natural as possible. You should see these images and just think the pose just happened.
And their story wouldn't be complete without sending off the happy couple. Away to your honeymoon!