How do I propose to my girlfriend? Planning a surprise proposal – the perfect marriage proposal
Check the "wedding temperature": does she want a surprise proposal?
Before you start your surprise proposal, you might want to take the temperature on whether or not your significant other wants to get married. The worst case scenario would be to assume that you are both on the same page about getting married and you are ready and she/he is not. I'm not suggesting that you show your cards by talking about marriage, but maybe a casual conversation to check in and see if your significant other is on the same page about getting married or not would be a good idea.
Find the Ring that is HER
Finding your girlfriend the perfect engagement ring is a big deal, and a big part of your surprise proposal. Now she loves you, so anything you get her, she'll tell you she loves. But it's not a bad idea to see what she wants out of her engagement ring and getting her the perfect ring that she'll show off to everyone for the next few months while planning your wedding.
How to read her mind without giving away the surprise proposal:
See if she has a pinterest board that includes jewelry/wedding stuff.

Ask her BFF, sister or mom what color she likes in precious metals/diamonds and other precious gems.

Talk to a jeweler – if you describe what your girlfriend is into, a jeweler will have a number of suggestions that can give you options for any budget. The jeweler might also have some ideas for your surprise proposal.

Don't be obvious, but she might drop hints or comment about her other friends' engagement rings. Make sure to listen for hints. She'll likely say something, subtly or not so subtly.
Talking to her family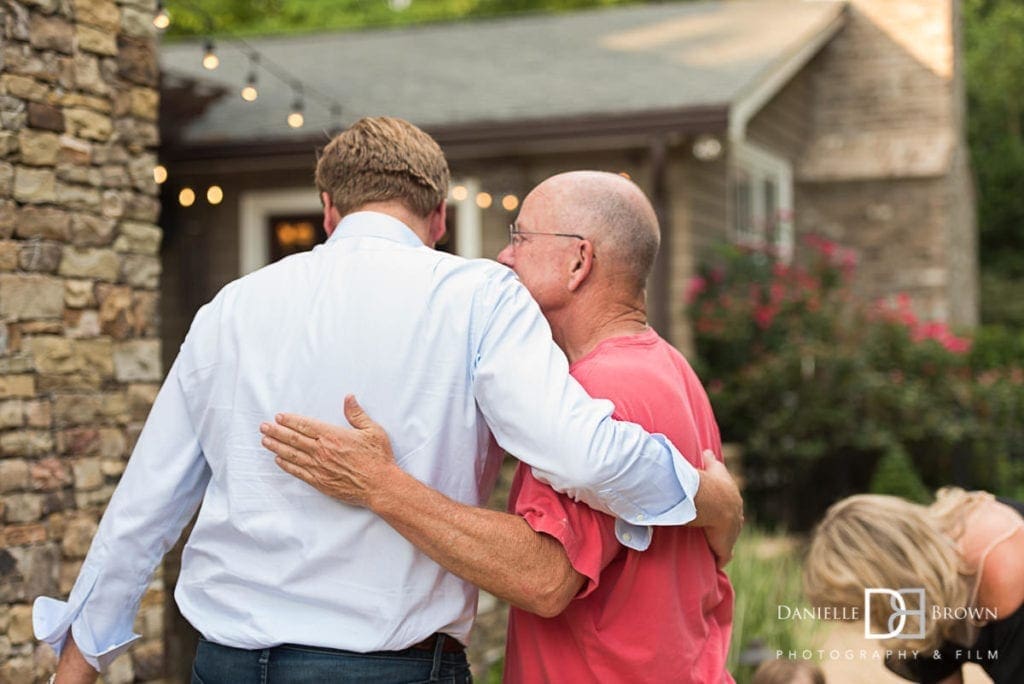 You should have a pretty good handle on whether or not you should talk to her father/parents for permission – even though this has become a largely ceremonial gesture. Personal note: my husband didn't talk to my dad / "ask for permission/blessing" to marry me. This lack of respect/decorum came up from time-to-time for some time. If you know your girlfriend is close with her parents or comes from a traditional upbringing, it's a nice gesture for you to have a conversation about marriage with her father/parents. It's pretty unusual for a parent/parents not to give their blessing on you proposing marriage to their daughter, but you won't hear the end of it for sometime if you don't.
Check out Cameron & MaryGrace's surprise proposal that concluded with a family engagement party here.
Girls love surprises… even if they say they don't.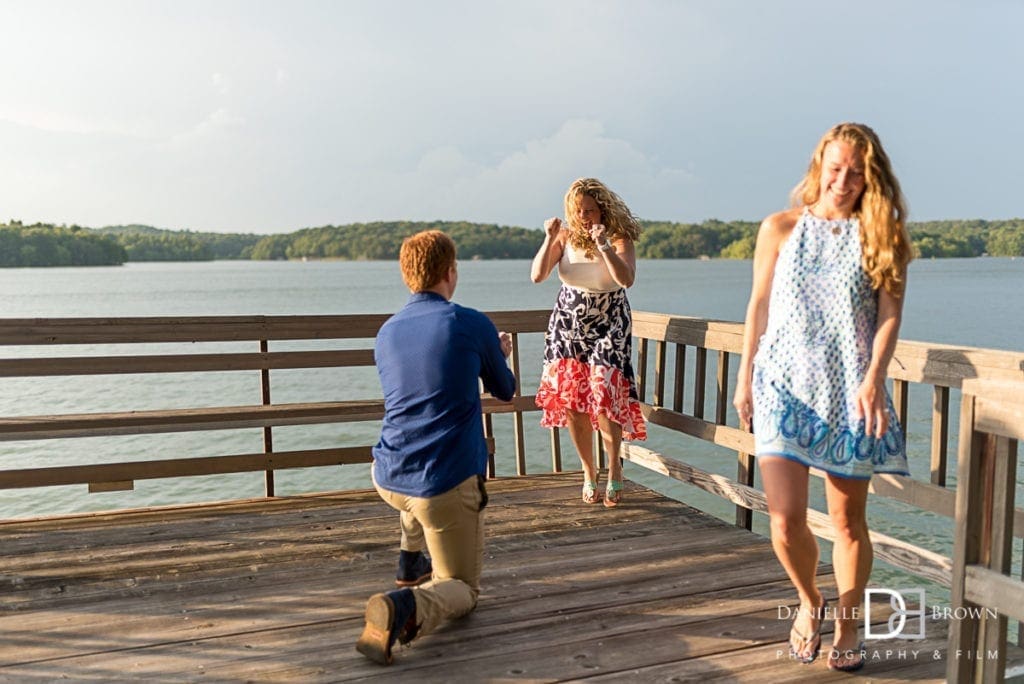 If you've talked about marriage, if she helped pick out the ring, still make the actual proposal a surprise. Don't tell her how you're going to propose. Just do it – she'll love it.
(I went researching my engagement ring when we started talking about getting married, so I saw it coming. My husband still took my ring and planned a really sweet proposal that swept me off my feet. And, yes, back in 2000 I said "YES!")
Bridget's reaction to Ryan proposing was AMAZING! Check out their full blog. I had to craft a back story to have a reason to be at this Lake Lanier private-home surprise proposal. *Not kidding* I'll tell you the story if you ask.
Practice what you're going to say when you make a surprise proposal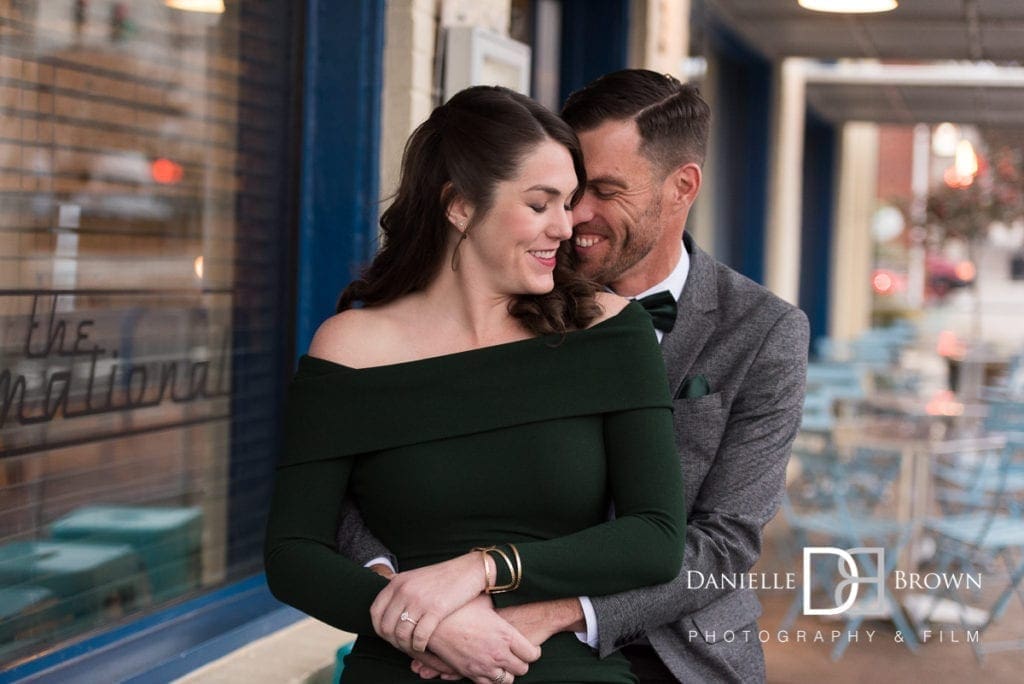 Don't expect to hold out a ring and that's the end of it. You're going to have to say something nice and have a bit of a plan.
Here's what's actually going to happen: you're going to think of what to say, maybe even write it down. You'll practice and practice, so likely you could recite your proposal off the top of your head to anyone. When you get in the moment, you'll probably go a little auto-pilot and not be quite as smooth as you practiced. Your girlfriend, soon-to-be fiance won't care. She'll be so in the moment and excited, she won't realize (or care) that you didn't include a couple phrases/paragraph from your originally prepared proposal.
When I was working with Tyler on his proposal to Rebekah, he told me the best story about how they met and incorporating his son into the proposal. See their story in pictures here.
Where to pop the question?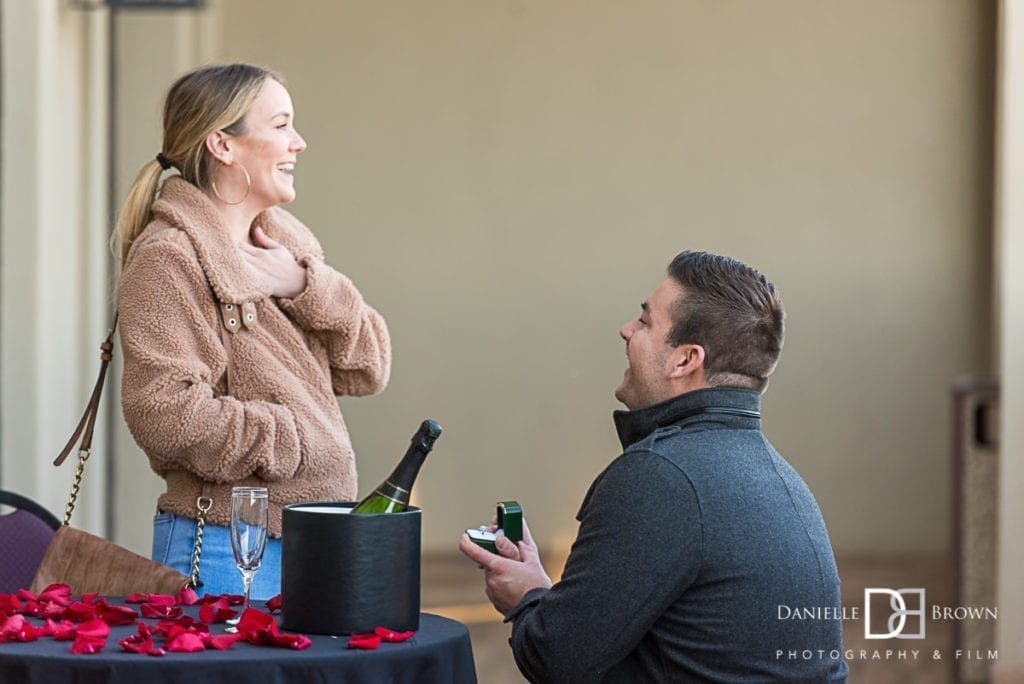 Pick a spot that has meaning. Any location that has meaning to you as a couple (or her personally) will make your proposal special. Think about your time together. Where did you meet /see each other for the first time? Where was your first date? First kiss? Is there somewhere special you and your girlfriend always want to go? Is there a thing that you do all the time or a thing that's really important to you both?
Since my husband & I hadn't dated for very long, he took me to a beach by my parents' house that we went to all the time as children to propose. Everyone has a story, pick a location that will give your story a special setting.
Don't do what everyone else did. Be creative. Be you.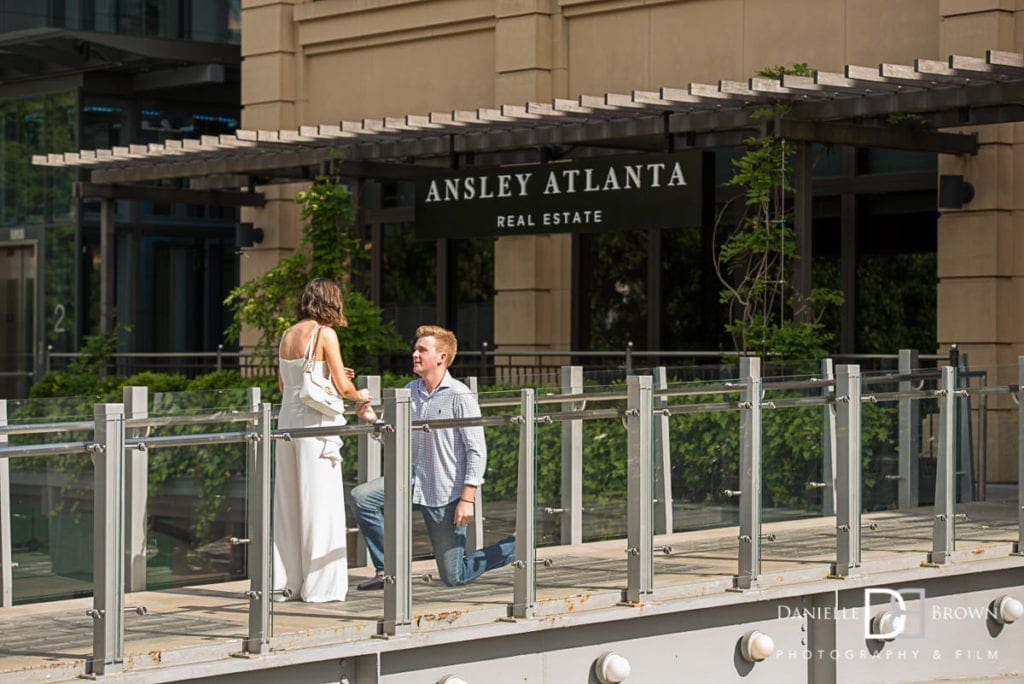 Don't get me wrong, if you're at a ballpark, or want to rent an airplane sign-flyer, or do something that is a big gesture that you've seen done before, you can do that. It's your proposal. Do what you think is best for you & her. But be creative – don't do something because someone else did it and you now think this is a good idea. Your proposal will have more meaning if it's creative and unique to you & your soon-to-be fiance.
Trevor didn't do what his brother, Cameron did. But they both picked locations that had meaning for their soon-to-be fiances. Check out Trevor's proposal to Tori here.
When in doubt, have a pro there
Lately, we've been honored to "be there" for several gentlemen popping the question to their girlfriends. No matter how you're planning on proposing to your girlfriend, it's a great idea to have a professional photographer on-site ready to capture this moment for you. This Atlanta wedding photographer knows that you cannot recreate that emotion and surprise on your girlfriend's face when you ask her "THE question". We're happy to help with engagement proposal ideas if you need a couple. As locations go to propose to your girlfriend, especially if you'll have an Atlanta wedding photographer present, I recommend a public space with a little bit of cover or crowds to allow your Atlanta wedding photographer blend in and not be obvious.
A few ideas to inspire your surprise proposal:
Robbie & Danielle
Robbie's proposal to Danielle – Marietta Square in Marietta, Georgia. Robbie hired a saxophone player to play Danielle's favorite song. They started to dance to her song, once their dance was over, he dropped to one knee and asked THE question. Danielle Brown Photography & Film photographed the proposal, while Phillip Greene captured the moment on video. After their proposal, Robbie took Danielle to a local restaurant where they were greeted by friends and family, all waiting to hear how Robbie proposed.
Matthew & Ashlea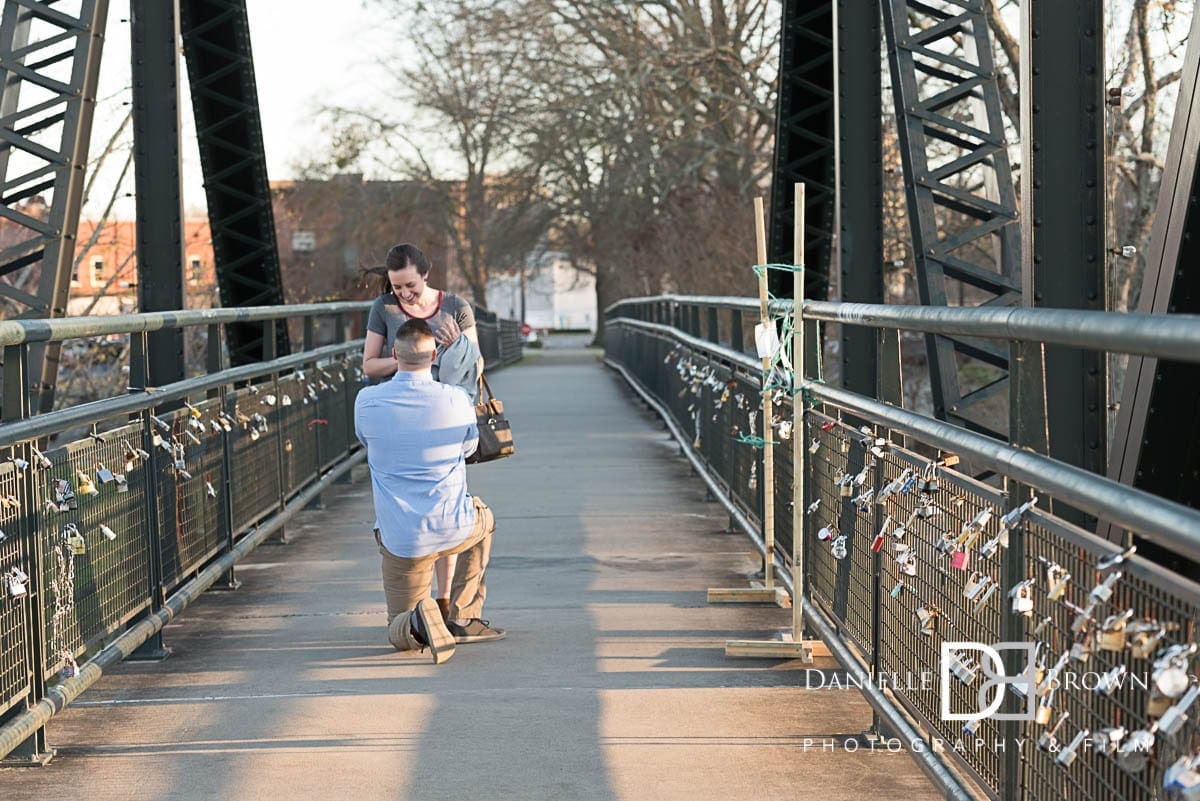 Matthew's proposal to Ashlea – Heritage Park Trail Bridge in Rome Georgia. Matthew had two posts made, and printed photos from their years long relationship that would be strung from post to post. Taking a stroll to the bridge with Ashlea over Heritage Park Trail Bridge in Rome, they "stumbled" across Matthew's display of memories from their time as boyfriend-girlfriend. From there he dropped to one knee and asked the most important question he had for Ashlea at this point. Since the Heritage Park Trail Bridge followed the French tradition of locking "love locks" onto the bridge, Matthew & Ashlea did that too! Once they were done on the bridge, they made their way to the Harvest Moon Cafe in Rome, Georgia where their friends and family awaited their arrival at their engagement party.
Thomas & Tori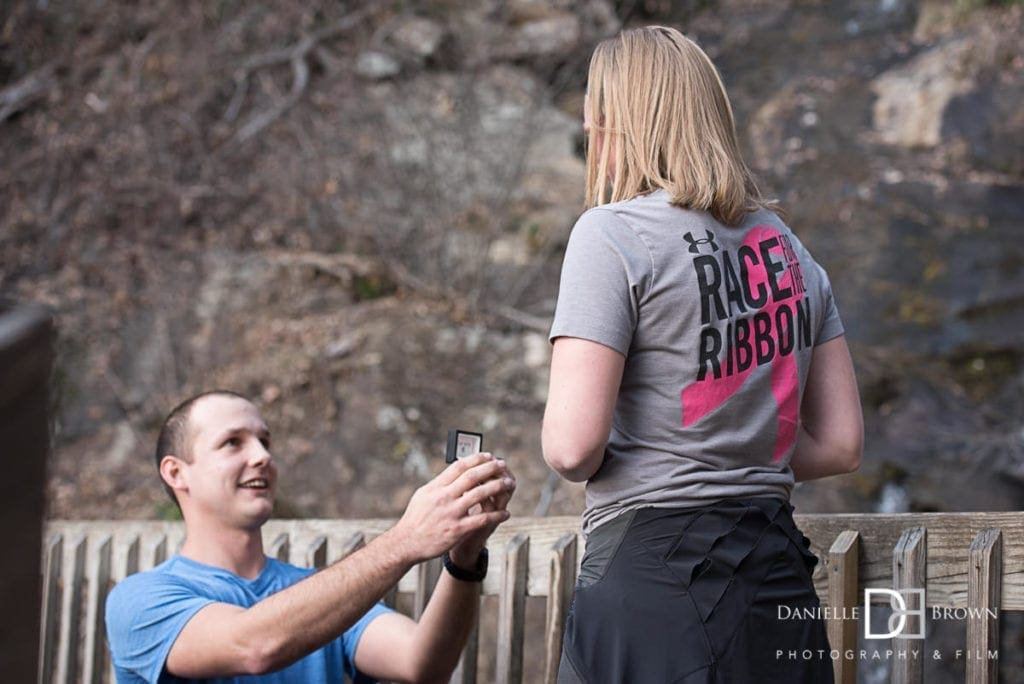 Thomas' proposal to Tori – Amicalola Falls, outside of Dawsonville Georgia. Thomas & Tori had planned a road trip from Illinois to Florida, with a stopover at Amicalola Falls. Thomas & Tori went on a hike to see the falls, once Thomas was in position, he got down on one knee and popped the question to Tori.
Alex & Holly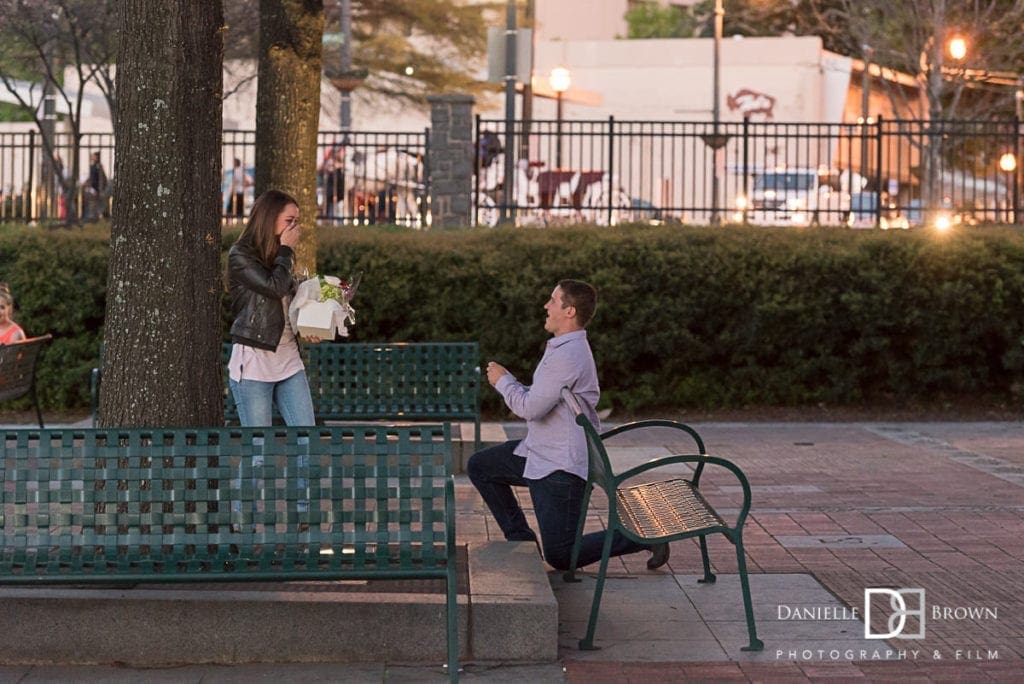 Alex's proposal to Holly – Atlanta Skyview & Centennial Olympic Park in Atlanta, Georgia. Alex took Holly on the Atlanta Skyview ferris wheel for a spectacular view of the city. Alex had arranged for some of their friends to bring a sign reading "Will you marry me?", flowers and champagne to Centennial Olympic Park, where Alex would propose to his girlfriend, Holly.
Hiding around a pillar, Alex & Holly's friends were waiting in the wings to see Alex propose to his girlfriend, Holly. Coming off the Skyview ferris wheel, Alex picked up the flowers placed by their friends, and showed Holly the sign, hung by their friends on the fence on the edge of Centennial Olympic Park. You know, the one that read "Will you marry me?" Holly was caught completely off-guard and did not expect for Alex to propose marriage. From there, Alex & Holly go off to their dinner reservations with their friends who helped put the surprise proposal together.
James & Barrett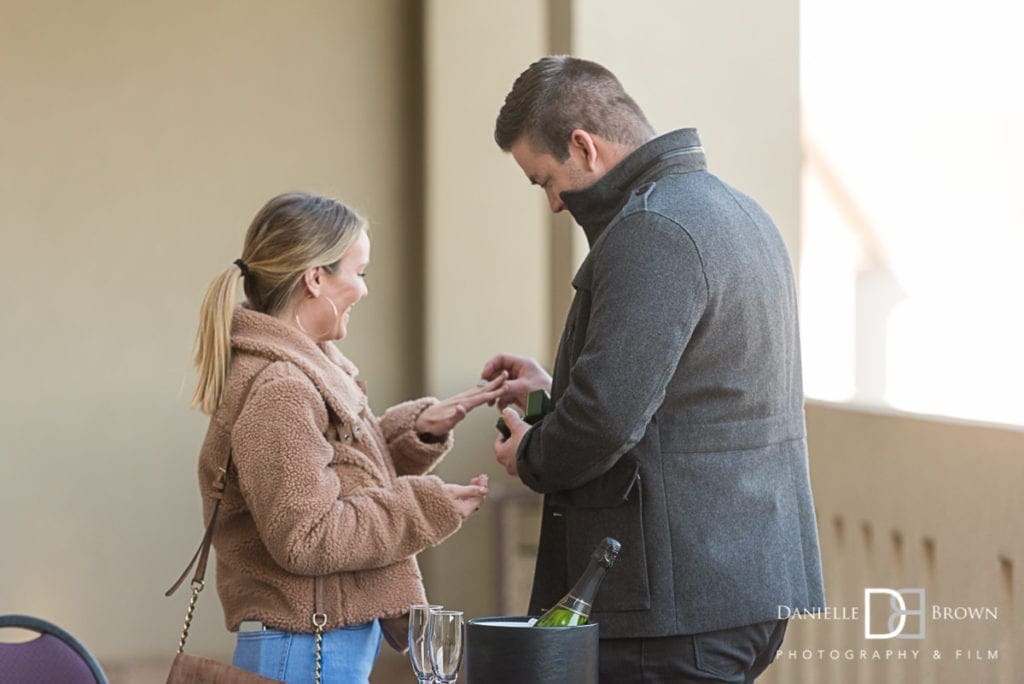 James proposed to Barrett at Chateau Elan. Chateau Elan, located north of Atlanta up I-85, is a great option for a romantic weekend that starts with a special question. As a guest of Chateau Elan, typically the resort is very lenient about guests taking pictures around the property. There are several locations on the property that make for a beautiful, scenic backgrounds for the perfect proposal.
Grab a glass of vino and put that ring on it! Check out James' balcony proposal to Barrett.
Need a can't loose proposal location?
Check out our most popular proposal locations here:
Piedmont Park – we've shot I don't know how many surprise proposals at Piedmont Park. Seriously, I'm considering getting my own parking space. Check out various locations throughout Piedmont Park where we've captured surprise proposals.
Atlanta Botanical Gardens – a close second and right next door to Piedmont, you cannot go wrong with Atlanta Botanical Gardens. During the bulk of the year, there are so many great backgrounds for your proposal and so many pretty flowers/seasonal foliage. During the winter evenings, Garden Lights, Holiday Nights is an amazing setting, but don't wait to get your tickets, time slots fill up QUICK.
Chateau Elan – we've been to Chateau Elan for a surprise proposal or two, or twelve, or twenty… I don't know. I've lost count. With beautiful views everywhere you look, Chateau Elan and their gracious staff can make any proposal plan come to fruition, yes I planned that, for guests staying on property.
Don't forget you have more to the surprise proposal than just giving her the ring…
Once you put that ring on her finger and your girlfriend says "YES!" you need to celebrate. A couple popular options after your proposal are to have a dinner reservations at a popular restaurant (if you didn't already propose there) or to go from your proposal to an engagement party, surrounded by your friends and family members. Several of my couples have transitioned from the proposal to going to a local restaurant where the bride-to-be can show off her new sparkly ring and tell everyone how you caught her by total surprise with your romantic and charming proposal.
It's not just you putting your surprise proposal together… it's good to have friends
Don't feel like you're the only one doing this. When you are proposing to your girlfriend, don't feel like you are the only one who has to put everything in place. Ask friends and family to help you when you're planning a proposal. Most of our guys who are proposing to their girlfriend need a little help to put everything in place. Whether you have friends and family help set up all of the items that will play a roll in your marriage proposal, or you have an Atlanta wedding photographer photograph you pop the question, don't ever feel like you are doing this by yourself. Friends and family and this Atlanta wedding photographer are so happy and excited to help plan the surprise proposal.
Everything's in place … now what?
You've got a plan. Where to be, what you'll say. You have the perfect ring. You've got reservations for a romantic dinner or a party with your closest friends and family to celebrate your surprise proposal. You've even hired this Atlanta wedding photographer to document the special moment when you pop the question, and you ask your girlfriend "will you marry me?"
You may be a man of few words, and that's OK. Try to make your proposal personal and reflecting your relationship. Be prepared to go a little blank or go on auto-pilot due to nerves once things get real. You're on one knee, you love this person and you're envisioning your life with this person until the end of time. If you fumble your words a bit, that's OK – she'll think it's charming. This Atlanta wedding photographer gets asked "what to say when proposing to your girlfriend?" often. Our answer is always the same: speak from the heart and tell her how much you love her and why she's so special to you.
With a professional photographer present, you should have amazing photos documenting your moment when you propose to your girlfriend. You'll have the emotion of the moment captured for all time. This will always be a great part of your love story; have excellent photography so you can share the story of your engagement proposal.
A few DON'T tips for when you propose to your girlfriend
There are definitely a few don'ts when it comes to planning and executing a surprise proposal. Read our tips on what to avoid when you plan a surprise proposal.
Don't over think it. If you start overthinking it and going nuts over how to propose to your girlfriend, you might start to act a little weird. If you start acting weird, your girlfriend will likely put 2 and 2 together and come up with 4 equaling your marriage proposal.
A public marriage proposal is very romantic, but what do you do if that's not you? You don't have to have a public engagement proposal. You should do what's right for you & the woman of your dreams.
Don't be "cookie-cutter". Make your proposal to your girlfriend unique to you & her. If you feel like an idea is a cliche or cheesy, and you don't want "cheesy," don't do cheesy. Do what feels right to you and your soon-to-be fiance.
Don't tell the whole world before your proposal. The easiest way to blow the surprise is to tell too many people. You'll need to tell a few people, especially if you need help setting up your surprise proposal, but try to keep the list of people who know about the surprise proposal to a minimum, so you don't have someone accidentally slip.
Don't have a massive ring box in your pocket… pick out one of these great low-profile ring boxes and keep her surprise. Click here for a low profile engagement ring box at Amazon.com.
Ready to ask your girlfriend to be your wife?
Make sure you have the following:
Engagement ring – what to know when you're shopping for an engagement ring

Engagement ring 101 – anatomy of an engagement ring

Spending two months salary on her engagement ring – how much do I spend?

Dinner reservations / engagement party set up

Professional photographer to document a public engagement proposal
Did your fiance/spouse propose in private or with a public surprise proposal? Tell us in the comments how you were proposed to.